On the eve of Kiev, a group of radical nationalists arranged another outrage near the building of the Trade Representation of Russia. During the hooligan rally, attackers threw smoke bombs onto the territory of a diplomatic object, inscribed insulting characters on its fences, and also damaged the vehicles of Russian diplomats. Such information appeared on the official website of the Russian Embassy in Ukraine.
Officials of the diplomatic department report that the cars of the diplomats were seriously damaged: tires were punctured, numbers were torn off, inscriptions of offensive content were left. In addition, unidentified persons doused the transport with sewage.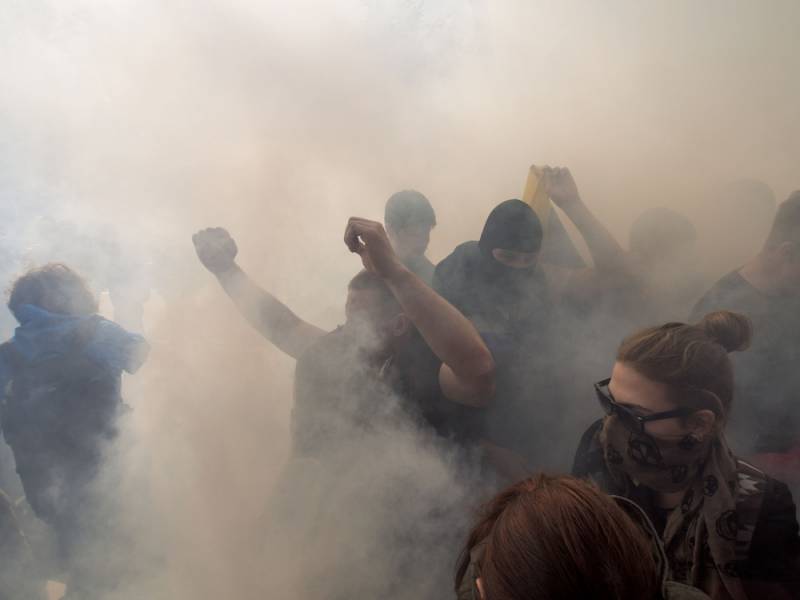 On the photo - riots outside the parliament building
The representative of the diplomatic department also noted that the law enforcement officers of Ukraine, who had arrived at the scene of the incident, did not make any attempts to stop the gangster trick, at that moment they were just bystanders.
The Russian Foreign Ministry has already sent a note of protest to the Foreign Ministry of Ukraine and hopes that the Ukrainian authorities will take all necessary measures to find those guilty of this barbaric trick, as well as to compensate the damage caused to the property of the diplomacy.
Recall that previously repeatedly attacked by the radicals Russian Center for Science and Culture, and the police also did not take any action to stop the pogrom in the building.