Recently, in an article about an attempt by the Russian Interior Ministry to purchase computers running Windows (
FAS puts the Ministry of Interior for computers without "Vind"
) we found out that our country has its own operating systems. It seems to be.
With a closer look here, as in the saying, not everything is so simple. But first things first.
Let's immediately stipulate that we will consider the software. We do not and will not have our own "iron". We will leave the passion for "Elbrus" for some other article, since the presence of our own processor is not the presence of all the hardware that is needed to build at least an office system integrator.
And in order to talk about their developments in the field of IT, we must live in the country about which we watch on TV, about which we are told very nicely, but in fact we have what we have.
So. Windows operating system. Everyone is familiar and at home and at work. Developed from 1985 year, at the moment the most global operating system (running on 89% of all computers). It looks beautiful, it sounds solid. Due to its mass character, the development of all major programs and application software is done with an emphasis on the Microsoft family.
Now let's recall the seemingly "our" products that are offered for replacement. Why quotes? Below we will sort it out. Let's say at once, all our products are based solely on the basis of the Linux kernel in older or newer versions.
Number of times.
The hero of the last article, "OS" (
OS "OS"
) - a Linux kernel-based operating system with a modified interface that very much resembles (well, just copied) the KDE 3 shell. Immediately after installation contains a minimum set of software necessary for office work.
Number two.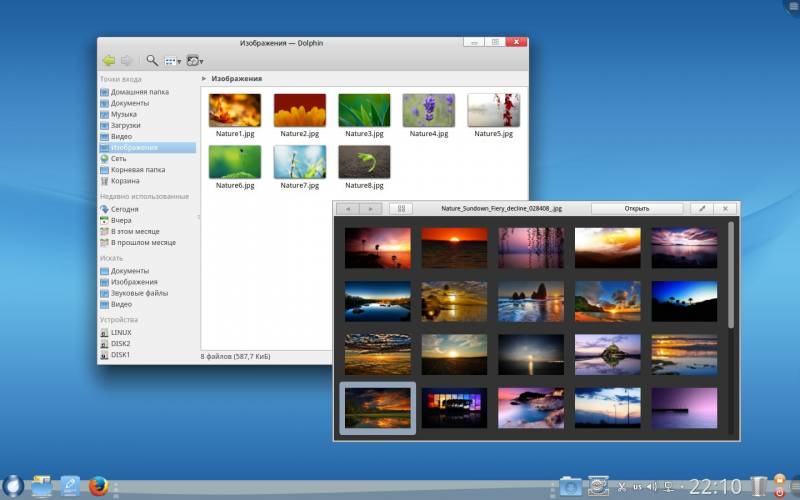 ROSA (
OS "ROSA"
) - also based on Linux, based on the same modified KDE. A set of software is no different from the rest.
However, since the devil (and the IT devil in particular) is in the details, then let's give more details.
Since we are talking about state structures that need domestic software protected from all adversity, let us designate the most frequently encountered programs at work. In order not to inflate the technical features, simply list.
The list, of course, is much longer and depends on the specification of the individual institution. We consider the example of a spherical military medical institution in a vacuum.
Microsoft Office, Microsoft Exchange, Microsoft Outlook, 1C, Crypto-PRO, VipNet, Adobe Acrobat Reader, Mozilla Firefox web browser, MIS KAUZ, VLSI, Consultant Plus, FTS, RPF, Kaspersky products and Dr.Web.
In Windows, this often does not work properly, and we are here for Linux ... And if we add more constant updates, then in general we get a carnival with a transition to infinity.
For server systems - a separate topic, more extensive and extremely technical.
Of course, there are free analogues of most of the programs listed, which, in principle, can be put in a state institution, but this requires a separate permit in the form of certification.
Oh, certification is a procedure that causes some burning in the area of ​​the buttocks among the developers and integrators of information technologies in our country.
By the way, certification is carried out by the FSTEC (Federal Service for Technical and Export Control) and offices that have received a license to operate.
The story of software licensing in terms of adaptation to modern state structures for the night is better not to read, so we are, in brief.
Only 8 circles of hell, which begin with the application. The application is almost not painful, only about 300 pages with accompanying documents attached to you and your employees, with the exception, perhaps, of a birth certificate. It does not need to attach.
Yes, anyone who works in this area can not. Aby who, even brilliant, sit in the offices and set up Odinäsku. And here - only certified specialists who have a certain experience in this particular area, which coincides with the diploma.
So from the first time to get the desired certificate, not everyone is given, but this is not the worst. The worst thing is that your software, which you want to offer to government agencies, will be given a certificate for 3 of the year. And then all over again ...
But there is still the ninth circle of hell. This is when you received a certificate for your software, you still need to prove its necessity and importance. That is, having ditched the car of time, you can simply get an arccase in the style of "Ne Treba!"
True, without a certificate you will not even listen. And so at least some chance.
With the software package for Windows sorted out. Let's now look at analogues that are offered for Linux-based systems.
LibreOffice and OpenOffice, Mozilla Thunderbird, 1С, Crypto-PRO, VipNet, Adobe Acrobat Reader, Mozilla Firefox. Everything! Then only dancing with tambourines using the Wine emulator or its paid versions of CrossOver and Cedega. And we have not yet taken into account specific handwritten programs that are written strictly for a particular institution.
And now let's move smoothly to the operating systems themselves, which are "ours".
Let us outline what a Linux system is: it is a constructor. A constructor that is built from already developed software products based on the Linux kernel. They can be paid, free and modified file. This is if rude.
Drivers for filling and office equipment - a separate pain and red eyes of system administrators. Which, by the way, as specialists in Linux / Unix systems, not so much. And they want more money for their work than the Windows system administrator. But here, too, "ours" showed ingenuity. No experts? It does not matter - for some money we will do everything.
From here we conclude that in actual fact no they are not ours. None of the listed products is a domestic development, but simply part of the designer that our engineers have assembled.
Yes, so it is possible and the Bavarian auto industry, which is collected in Kaliningrad, our count. Another question is whether it will become such ...
Examples? How much you want.
"Rosa" was created on the ruins of the Mandriva operating system, which in turn is the development of French engineers.
"OS" did not pass the mandatory certification of FSTEC at all. Therefore, they have not been included in the register of domestic software for a long time. Separate greetings to Alexander Kulakov from Stopkartel, who offered it as an alternative to Windows.
But the products that these systems incorporate have no relation to our Fatherland at all. In addition, maybe all sorts of there 1C and "Consultants" with "Guarantors". Let's be honest here too. 1С only a couple of years ago introduced support for unix-systems.
And you can list endlessly, going into the technical aspects and features of the legal field.
As a result, we can say that tomorrow's bottom is near.
And if for a mass of reasons we cannot "into hardware," then, with the exclusive base of Russian programmers, we should not be engaged in developing our own programs, but trying to make money from free products is a crime of the highest degree.
What kind of development of the IT sphere can we generally argue, if the main task is to make money, and even so stupidly? Not only that, and so we are behind the whole world by 15 years, so we also do not want to do anything with it, and we will not, apparently.
That seems to be the end of the article, but the taste of Rosnano is still in the mouth. It would be more correct to say about Peremogh, well, we are still a little patriots.
Oh yes! The economic component! Here, much is revealed. Check for yourself if you want.
Domestic developers modestly conceal the cost of the product and offer to find out "on request".
Yes, Microsoft doesn't sell anything to us personally either and works through local representatives. Here the price varies from 7 TR before 200 TR on average for one license. You understand, depending on what.
The software in each case is purchased separately. The average cost of a finished workstation is about 80 TR. taking into account office equipment and a standard set of software.
Only one conclusion. You can not go with the flow in the field of information technology. Especially, if the information security of the state is in question. And we have a face of fraud, albeit not pure water, but clearly peeking out from under the shells of "domestic operating systems" —free developments by world-class specialists, which are now sold for quite specific thousands of rubles.
Well, the tension of the domestic information owl on the world globe in an attempt to give what is desired.
There is only one bright thought in all this muses. Now in our country there is not one company of smart people, which sells under the guise of "brain labor" just an assembly of free components, but two.
That is, we are getting competition so far that can lead to something positive. At a minimum, lower prices for former free products, and at the maximum, OS and ROSA companies will spend money on developing new projects.
This is already something. And there already and until the moment when there will be real domestic software development, within reach. Some years 10-15 ...