According to online publications The Bellingcat and The Insider, during a joint investigation into the case of the poisoning of the Skripale family in Salisbury, they had new information. According to representatives of these publications, the name of one of the suspects, "Ruslan Boshirov," is supposedly a pseudonym, and his real name is Anatoly Chepig, and he is
colonel
The Main Intelligence Agency of the Russian Federation (GRU) and has the title of Hero of Russia for the successful fulfillment of the peacekeeping mission.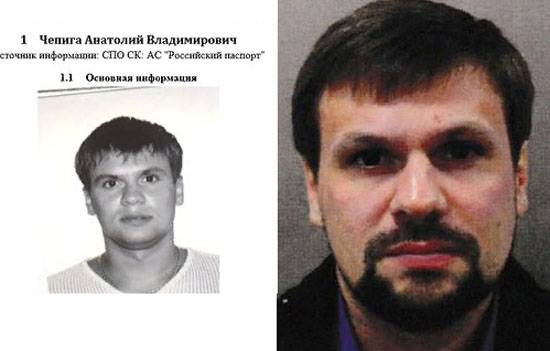 The publications found out that Anatoly Chepiga is a graduate of the Far Eastern Military Command School, which trained officers of the GRU special forces. It is this fact from the biography of Colonel Chepigi that became "decisive" in the investigation. The journalists looked at the photos of all the graduates of this school during the 2001-2003 years, and at one of them they allegedly saw a man who looked like the suspect Boscharov. After that, they somehow got access to the databases and found in one of them the address of the colonel of the GRU in Khabarovsk, which coincided with the address where the military commandos of the GRU special forces are located. After that, The Insider entered the Russian Passport system for 2014 for a year and, after making a screenshot of an extract with a photo of Chepiga, published it on his website. The statement itself that "logged in" draws special attention.
Maria Zakharova, a spokeswoman for the Russian Foreign Ministry, commented on the publication of The Bellingcat and The Insider. She said that the investigations carried out by the publications are aimed solely at distracting the attention of the world community from the real events that took place in Salisbury.
Attention is drawn to the fact that the publication of the Boshirov-Chepiga investigation appeared after British Prime Minister Theresa May once again accused Russia of speaking in the UN Security Council on the use of
weapons
mass destruction.
To understand the situation: The Bellingcat and The Insider are those structures that "painted" the Buk moving in the Donbas, and which were pierced with a missile for this air defense system, posing as the Kursk brigade. In this regard, one question: why "Boshirov-Chepiga" was "only" in the rank of colonel? "The Poisoner" had to be sent at least in the rank of Major General, twice Hero of the Russian Federation, the author of the monograph "How to apply BOV, so that the poisoned person does not die."