While the President of Ukraine, Petro Poroshenko, with joyful excitement in his voice, was talking about a "super-successful operation" of sending two ships from the Black Sea to Azov under the Crimean Bridge, interested citizens of Ukraine had a question. It consists in the following: if Kiev seriously intends to create a naval base on the Sea of ​​Azov, then where exactly will it be located taking into account the virtually complete absence of any infrastructure suitable for it?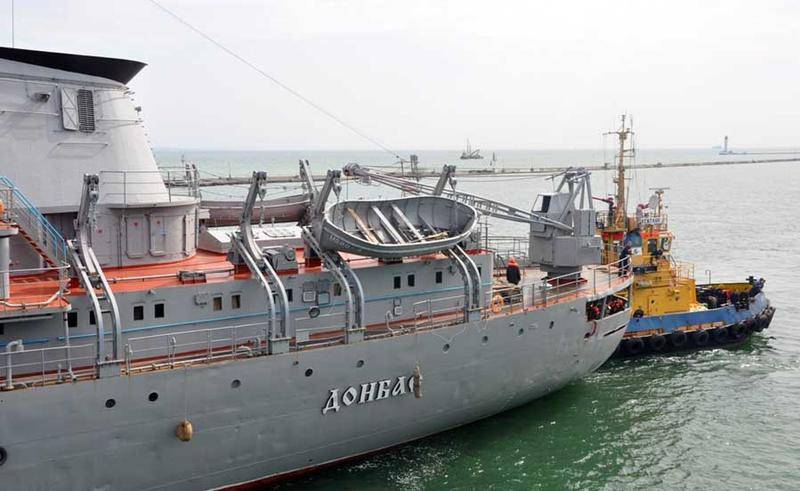 This question was answered, which is remarkable, not representatives of the Ukrainian Navy, but deputies of the VRU. Nardep Ivan Vinnyk on the air of one of the Ukrainian TV channels announced that warships and artillery armored boats would be based in trade ports "at the initial stage". We are talking about the ports of Berdyansk and Mariupol.
Then, as suggested by the Ukrainian parliamentarian, it will be necessary to invest in the military infrastructure on the Azov Sea.
From the statement of Mr. Vinnik:
Perhaps with the construction of moorings and the like. These plans are approved by the General Staff.
At the same time, the words "possible" and "approved" in this context do not fit well with each other.
Recall that the Ukrainian search and rescue ship A500 "Donbass" and the sea tug "Korets" passed through the Kerch Strait last Saturday. At the same time, pilotage services were provided by Russia, which is not mentioned in Kiev. These "boats" were accompanied by the coast guard of the Federal Security Service of the Russian Federation. The transition from the Black Sea to the Azov Sea by Petro Poroshenko was presented almost as a round-the-world expedition.