In the Verkhovna Rada of Ukraine, they commented on the statement of President Poroshenko about "the strongest army on the continent". It should be noted that Poroshenko now points not only to the "force of the Armed Forces of Ukraine", but also to the fact that "if it were not for the Ukrainian army, the boot of the Russian soldier would have already trampled the lands of the NATO countries". This kind of statement Poroshenko made in an interview with the German edition
Rheinische Post
.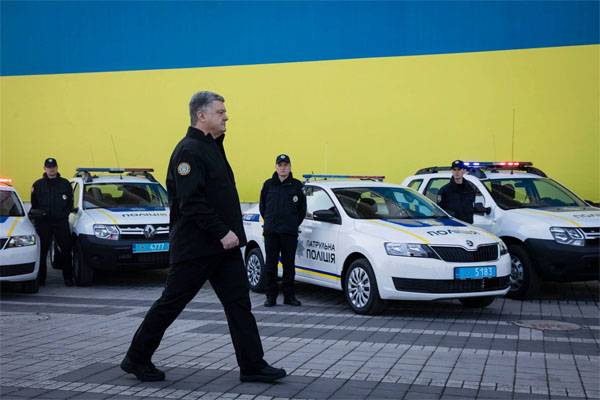 From the statement Poroshenko:
Today we spend 6% of GDP on the army. I believe that only by this we already play an important role in containing Russia on the eastern borders of NATO. And we are fighting not only for ourselves. We fight for all of Europe, democracy, freedom, the West and Western values.
A further statement is even more puzzling. According to Poroshenko, "for the first time in a 300-year-old
history
Of Ukraine, 70% of the country's population wants to join NATO and the European Union. " About the absurdity of the statements speak not only in the parliament, but also in Germany, where the interview was published. First, to consider the aspect of the desire or unwillingness of Ukrainians to join NATO in the 300-year retrospective is at least strange for the simple reason that NATO was formed in the late 40-s of the twentieth century. Secondly, Poroshenko angered the Ukrainian radicals with a statement about "300-year-old Ukrainian history." Radicals, as is known, believe that Ukrainian history is almost more ancient than Egyptian.
Comment of the deputy VRU Vadim Rabinovich, who heads the political movement "For Life":
Indeed, our army has become the strongest on the continent - I heard it from the president and from many of our commanders-in-chief. I have a question. Tell me, please, if we have the strongest army on the continent, why should we go to NATO? Let NATO come to us. We are the strongest.
Recall that a recent opinion poll in Ukraine showed that 38% of citizens are against the country's entry into NATO, 42% speak for joining, the rest are undecided. Whence information about the "70% approving" Poroshenko took - the question.