American edition
The Wall Street Journal
sounds alarm about the next version of "Russian influence" on the United States. If all the last time the alarm was announced in connection with the actions of the "Russian hackers" and in connection with the "interference in the elections", now the new "attack" for America is Russian farmers.
The WSJ reports that the Russian agricultural industry is growing at a high rate. In particular, there has been an increase in exports of Russian grain. The author of the publication in the American press, James Merson, is concerned that Russian harvests and the output of Russian grain to international markets lead American farmers to cope with this kind of competition.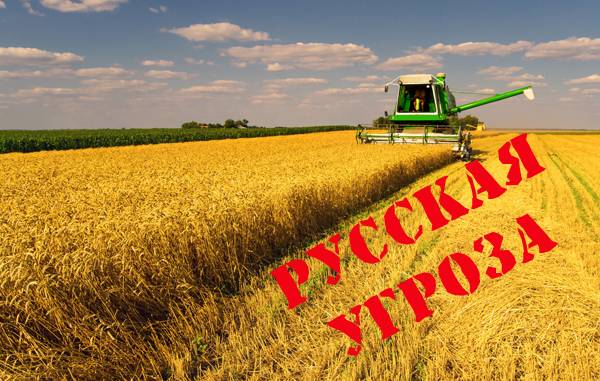 From the material:
In 2016, Russia ousted the United States from first place in terms of wheat exports. In 2017, the result was repeated. Wheat exports from Russia this year are breaking records. Increased competition in the global grain market leads to a decrease in the welfare of American farmers.
The author also notes that the difficulties of the US adds a trade war with China. The PRC has already raised import duties on North American wheat by a quarter. And this is an "additional chance for Russia."
For your information:
135,4 million tons of grain was harvested in the Russian Federation last year. This is a record for all the past decades. Smaller volumes are expected this year - up to 106 million tons. It is planned to export more than one third of these volumes (up to 38 million tons).
Does the publication in the WSJ mean that in the US they will now also think over the package of sanctions against the Russian agricultural sector?