In Kiev, the possible profit from receiving the so-called Ecumenical Patriarch of autocephaly of the UOC Kiev Patriarchate is already calculated. In addition, another goal is indicated, which is pursued by Western intelligence agencies in obtaining the UOC-KP independent patriarchate. This goal was actually given out by Filaret (Denisenko). It is noteworthy that Philaret presented his reasoning after the Voice of America radio station in the United States.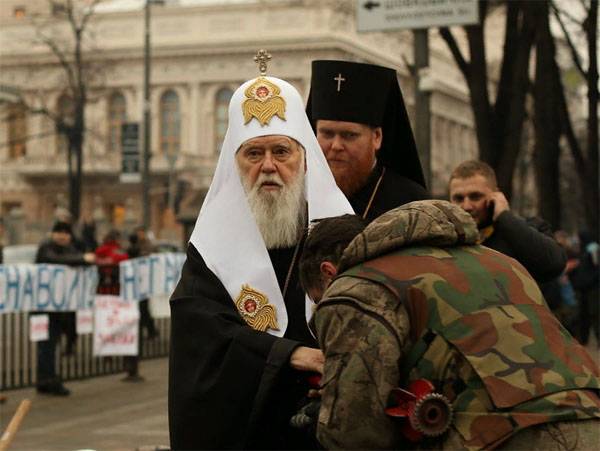 According to him, after receiving the autocephaly by the Ukrainian Orthodox Church of the Kiev Patriarchate, the Moscow Patriarchate "will be halved" and "will no longer claim the first place among Orthodox churches."
Filaret, who wrote a "penitential" letter to Moscow a few months ago, after meeting with representatives of American political circles and intelligence services, now announced that Putin was using the UOC of the Moscow Patriarchate as a "means of putting pressure on Ukraine".
All these statements by Filaret (Denisenko) indicate that a purely political decision is being taken. There is not a drop of religion or religion. Indeed, according to the new Ukrainian tradition, no one in Kiev (and even more so in Washington) is not going to be interested in the opinion of the Ukrainian people directly about which church to go to. And after the statements of President Poroshenko that "Ukraine will now pray to its gods," it finally becomes clear that all this activity even has nothing to do with Orthodoxy itself.
Filaret (Denisenko), who is advised by American lobbyists on the idea of ​​breaking all ties with Russia, talking twice about the reduction of the Moscow Patriarchate, for some reason, is sure that all UOC MP parishioners suddenly turn over to his side. Or, and here everything will be planted in blood, as it has recently been adopted in Ukraine?
For reference: Filaret (Mikhail Denisenko) 89 years. He is a native of Donbass.