Western publications and "independent experts" no longer know what else incredible
history
to invent in connection with the "poisoning" of the runaway Fiddler and his daughter. At this time, again decided to distinguish stung by the Russian Ministry of Defense in connection with the disclosure of Western fakes
Bellingcat
. Not realizing that he is opposed to the facts made public by the Russian military department on the origin and transportation of the Buk missile system,
Bellingcat
I decided to ignore the topic for now and switch back to Skripale. There, apparently, the field for fantasy is much more spacious.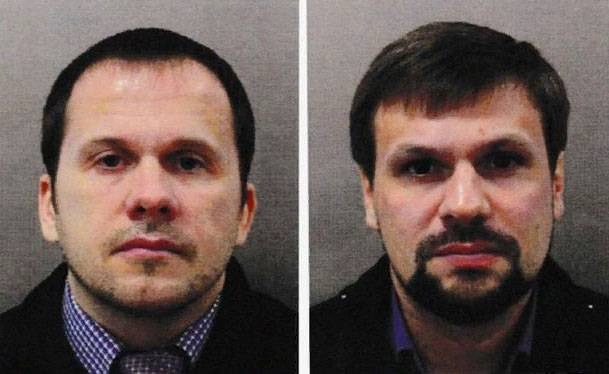 "The Insider" with reference to
Bellingcat
writes that Alexander Petrov and Ruslan Boshirov are almost the most active "representatives of Russian intelligence agencies." And the fact that these two are "Russian intelligence officers" in
Bellingcat
, of course, no doubt. The submission stated that Russian citizens visited the Netherlands in April 2016. And this "arouses suspicion."
Further, the mentioned sources of misinformation announce that the suspicions are connected with an event that occurred in Holland 12 days before the arrival of Petrov and Boshirov. What kind of event? It turns out that we are talking about the Dutch referendum on the Euro-Association of Ukraine. Then, as you know, the Dutch opposed. And now
Bellingcat
He is already trying with all his might to draw by the ears the idea that if any of the Russians flew into the country of tulips and mills 12 days after the plebiscite, then he should have something to do with the results of this plebiscite. Ukrainian media are already trumpeting this.
For any normal person, this is frank nonsense. But for
Bellingcat
, constantly piercing on their own lies, - "proof of involvement." Who and what for?
Apparently, the next stage of publications from
Bellingcat
and "The Insider" should somehow be connected with the arrival of the "Russian deuce" in Tel Aviv in the summer of 2016, which (the arrival) in turn will be linked with the protests of the Palestinians. Thus, any route of Petrov and Boshirov can be "tied" to any desired event in that city or in its environs, where they once flew.
Against this background, the authorities in New York announced that a series of training sessions are starting in case of the use of chemical and biological
weapons
. Is it really Petrov and Boshirov again? .. But they were not in New York, according to the data of the same "The Insider". Is it important for the West? But they were in Paris, and this is "hand in hand" to the east coast of the United States, and it means "they could have left a bottle of perfume with" Novice ". For the western man in the street, not accustomed to go into details, will do.