Ukrainian President Petro Poroshenko, speaking during the annual message to the Verkhovna Rada on the internal and external situation of Ukraine, said he was waiting for the Ministry of Defense to move the army to NATO standards as soon as possible, Ukrainian media reported.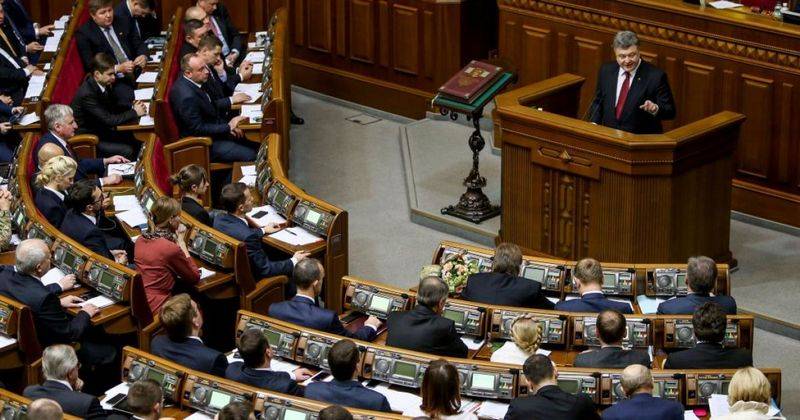 According to Poroshenko, right now is the most opportune moment for the transition to NATO standards, since "Ukraine lost its total dependence on supplies from Russia" and "gained a unique experience of repelling aggression." The Ukrainian president said that the country is moving to a strategy of import substitution, and also announced a number of measures to strengthen the state's defense capability. such as: new technologies, modernization, re-equipment and re-equipment.
Poroshenko promised that already from this year it is planned to actively develop, prepare for production and purchase of modern high-precision missile weapons, artillery systems, armored vehicles, ammunition, high-precision weapons.
At the same time, he demanded that the Ministry of Defense develop non-standard and asymmetrical answers "to any enemy scenarios" and speed up the achievement of NATO standards, as well as full interoperability with the armies of the member countries of this defense-political bloc "
Also during his speech Poroshenko listed all the achievements of Ukraine during his presidency. According to Poroshenko's statement, they include: the course towards membership in the EU and NATO, almost fixed in the Constitution of Ukraine, visa-free regime with the European Union, a significant strengthening of the Armed Forces of Ukraine, the revival and popularization of the Ukrainian language, the de-communization of the country, the recognition of the UPA as participant of the national liberation war, the rejection of Russian gas and winning the gas dispute in the Stockholm arbitration.