During a briefing on the situation with the MH-17 investigation, the Russian Ministry of Defense, in addition to declassified data on the supply of anti-aircraft missiles in the USSR 80-s, provided a detailed analysis of a number of videos. First of all, we are talking about personnel that the Ukrainian bloggers and the notorious Bellingcat gave out and continue to pass off for allegedly moving the Russian Buk missile system to the LDNR territory. In the frames, as is well known, a trailer with an anti-aircraft missile system, then the Buk, moving under its own power, is shown on the roads.
During the briefing, a detailed (almost frame by frame) analysis of videos that are used by Kiev and the West to accuse Russia of striking a Malaysian Boeing. So, on one of the shots a clear "anomaly" is demonstrated when the Buk air defense system suddenly moves backwards along a normal road.
The series of identified inconsistencies is in graphic perspective, when the guides of the streets and designated military equipment on these streets do not have a single vanishing point, which contradicts the laws of the very same perspective and geometric optics.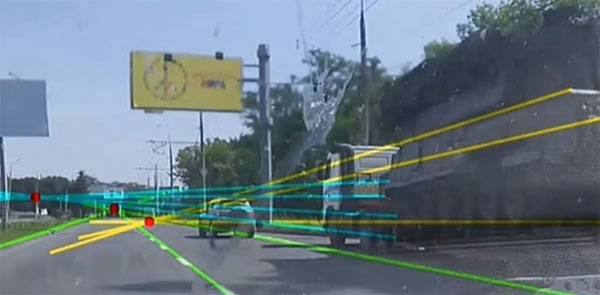 In addition, the Ministry of Defense draws attention to the strangeness in the illumination of the very trailer "with the Buk," which Kiev insists on. Civilian cars, captured on frames, are not lit the way the trailer cabin is lit. Separate parts of the cabin, to which, by definition, the light cannot fall in the presented perspective, are brightly lit.
The apogee of analyzing videos and identifying their installation can be considered a video made by the ministry itself. Thus, it is demonstrated that if you use the same applied technologies, you can fabricate, in fact, anything. As an example, the Ministry of Defense of Russia shows a video story in which the trailer carries an American tank "Abrams", explaining in advance that it used exactly the same technology that the authors of video fayers used.
From the material (in the video on 19: 32):
In such a simple way of falsifying a video, you can roll along the streets not only the firing system of the Buk air defense missile system, but also, for example, the Abrams tank