Archbishop Danil of Pamphylia (Zelinsky), sent to Ukraine by Patriarch Bartholomew of Constantinople as Exarch, presented the ex-leader of the Right Sector movement (forbidden in the Russian Federation) Dmitry Yarosh rare books of the Ukrainian Nazi of the early twentieth century Dmitry Dontsov, the author of the first translation of Mein Kampf Adolf Hitler to the Ukrainian language, reports
EADaily
.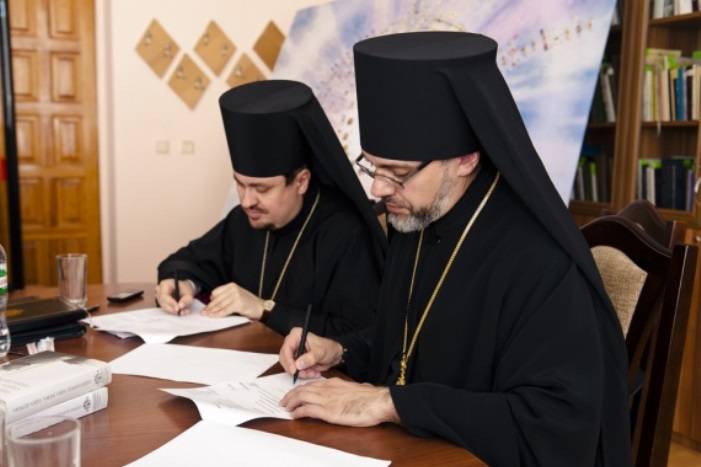 Boris Filatov, the mayor of Dnepr (Dnepropetrovsk), known in Ukraine under the nickname "Hangman" ("And we will hang them later," he told about the pro-Russian population of Donbass) told about this case on Facebook.
So, at the end of April Filatov visited the USA, where he met with rich representatives of the Ukrainian diaspora. He also visited the residence of Archbishop Daniel in the consistory of the Ukrainian Orthodox Church of the USA (subordinate to the Patriarch of Constantinople) in New Jersey State.
During the meeting, Daniel noted that he was very fond of books and collected tens of thousands of them. He recalled that Filatov was fascinated by Dontsov's works and said: "Take any - all of his lifetime editions. By the way, give me a couple of books from Yarosh. "
Filatov is very impressed with the fact that the books of the Ukrainian Nazi Dontsov were presented to him and his friend Yarosh by Daniel, now appointed Exarch.
The publication reminds that Filatov and Yarosh are friends for a long time. Leaving at one time the leadership of the "Right Sector", Yarosh joined the party "Dill", where Filatov is a member of the council. Speaking about Archbishop Daniel, Filatov stressed: he is very cool: young, resolute, progressive, encyclopedically educated - it is impossible to imagine a better choice (when appointing an exarch).
So far, the mayor of Dnipro cannot fulfill his dream of cracking down on the residents of the DPR and the LPR, therefore, at present, he has to limit himself to verbal threats and to ban the performance and broadcasting of Russian songs in his city.