In the Armed Forces of Ukraine ended the trial in relation to the summer army shoes. These are the so-called summer berets, which the manufacturer calls trekking boots. Tests of this footwear were carried out by military personnel of the 95 airborne brigade both in their daily service and in the performance of combat training tasks.
The General Directorate for the Development and Support of Material Support of the Armed Forces of Ukraine reports that the tests were conducted during the month, and all feedback from servicemen was taken into account. As a result, a map of comments and suggestions was made, which will form the basis for making changes to army shoes.
Demonstration of new shoes on the background of unwashed and unpainted floor in the classroom 95-th brigade: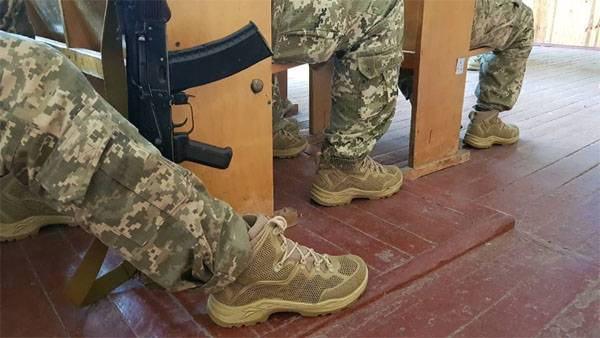 The manufacturer reports that he is ready to completely cover the needs of the Ukrainian army in boots, which are designed to replace the classic berets, which are currently in use by military personnel.
The new (proposed) army shoes have a two-layer sole with additional elements of polyurethane foam, which can reduce the load on the foot during movement. Also, the sole has "special elements for self-cleaning of dirt." Announced that the shoe is implemented "new system of lacing and hooks."
From the presentation material:
The design, which is based on a number of simple geometric shapes, primarily carries a technical load (protects certain areas of the base material from damage, forms a "grid" of hexagonal texture to ensure high vapor and air permeability with the effect of self-cleaning from sticking plastic soils.
About how much money the Ministry of Defense of Ukraine is going to spend on the process of pereobuvaniya army in the "summer berets", the data are not presented.