Urgent messages come from Syria. The Syrian government army launched an offensive on the Idlib-Hama axis, where a total of up to several thousand militants are concentrated. The first blow was struck near the Masasne checkpoint, where a group of militants was eliminated, including several snipers.
After that, the CAA attacked the fortifications of representatives of the terrorist group "Hayat Tahrir al-Sham" (* banned in the Russian Federation). Artillery strikes destroyed trenches and underground tunnels, which were used by terrorists.
Then, using rocket artillery, a strike was made at the location of the rocket launchers and armored vehicles of the militants in the area of ​​the Tamanakh settlement. At the moment, the Syrian army is reportedly concentrating the main forces and assets in the southern part of the province of Idlib, in which the militants carry out constant shelling of the territories previously liberated from the terrorist occupation.
At the same time, the terrorists fired on a Syrian air force helicopter in the province of Hama - east of Suran.
Meanwhile, information is received from the province of Aleppo that Turkish artillery is shelling the northern part of the province, namely the city of Tel Rifat. According to some reports, there are concentrated representatives of the Kurdish armed formations of the YPG units. At the same time, the Turkish army transferred additional forces to the south of Idlib - near the town of Murek, located on the Khan-Sheikhun-Hama highway. This is exactly the territory, the attack on which is preparing the CAA.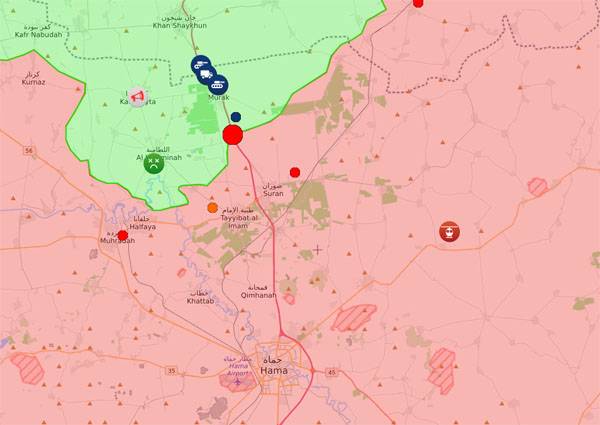 Thus, Ankara unequivocally makes it clear to Damascus (and Moscow too) that it is going to finally take militants in Idlib under its wing and retain the backbone of "resistance to the bloody Assad."