The fifth year comes, as they make fun of the servicemen of the Ukrainian army, who then themselves explode in their own minefields, then die from a drug overdose in the trenches, then eat snakes caught in the nearest ravine or unsuccessfully test Molotov mortars.
However, an important detail is missing behind all these reviews: a huge number of problems in the Ukrainian army, but nevertheless over the past four years, including with the help of NATO instructors and representatives of the special services, they managed to create an openly hostile in relation to Russia armed conglomerate. This is an association of people, a large percentage of whom hate with fierce hatred everything that is at least somehow connected with Russia, and against the background of hatred of their own authorities, driving them into the mouth of the civil war, called by Kiev "the Russian hybrid".
Under the conditions of total corruption, the half-starved army of Ukraine is consolidating on openly Russophobic propaganda, arming itself with lethal
weapons
, is trained and trained as much as possible. Volunteer corps provide radical formations with literally everything: from toilet paper to optical sights of the latest modifications. Throw funds compassionate russophobes from outside the Russian Federation "to the rebel struggle."
The Ukrainian army, from recently scattered and demoralized, burning in boilers, at different stages of the "execution" of the Minsk agreements, has obviously become more equipped and stronger. How ready is this equipment to manifest is a question that can actually cost thousands of human lives, and no one is going to count these lives in Kiev. APU can be underestimated further, but how expensive can it cost?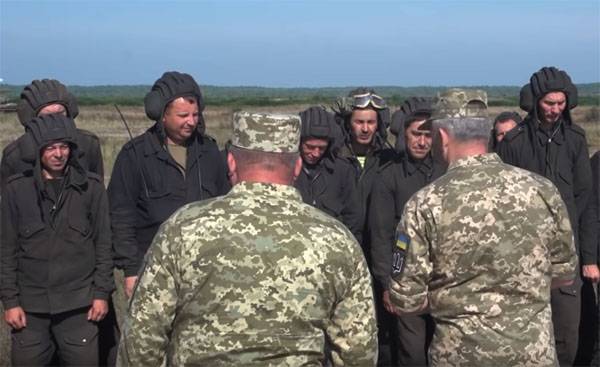 Information for note: The Armed Forces of Ukraine started preparing equipment for reservists. It is noted that 100%
tanks
The T-72, which underwent modernization at Ukrainian enterprises, was equipped with the 5th reserve corps brigade. Reservists developed tank control skills during tactical exercises, which were observed by military attaches of foreign countries. The exercises were held at the Goncharovsky military training ground.