95 years ago - 13 September 1923 of the year - in the town of Osino-Guy in Tambov, Zoya was born. Zoya Kosmodemyanskaya. A true symbol of resilience and resistance, courage and readiness for self-sacrifice. Zoya Kosmodemyanskaya - the first woman awarded the title Hero of the Soviet Union posthumously.
Being abandoned as part of a sabotage group to the rear of the enemy, 18-year-old Zoya Kosmodemyanskaya participated in the operation to destroy the property of the Nazis. So, she carried out the arson of one of the houses in which the occupants were spending the night at the time. In the same house was a German communications center.
Liberal propaganda claims that the two other houses in the village of Petrishchevo, which belonged to the local residents and were set on fire with the participation of Zoya, were not used by the Nazis. However, the testimony of the local residents themselves suggests that the Germans constantly moved into their homes, moving along the roads outside the village.
Captured Zoe proved to be a real hero. Her speech, which witnesses of those dramatic events of the last days of November 1941 bring, made an indelible impression on the inhabitants of the occupied territories. Zoya, who went through torture and faced a gallows, called on compatriots to fight the Nazis.
From the testimony - speech Zoe:
No matter how you hang us, do not hang all, we 170 millions. But for me, our comrades will avenge you!
The body of Zoe Nazi executioners did not remove from the gallows for about a month. Already in January 1942, after numerous abuses, an order was given for burial. Local residents dug a grave for Zoya Kosmodemyanskaya outside the village of Petrishchevo.
Subsequently, Zoe was reburied - her ashes rest in Moscow at the Novodevichy cemetery. Her monuments and streets named after her are all over Russia.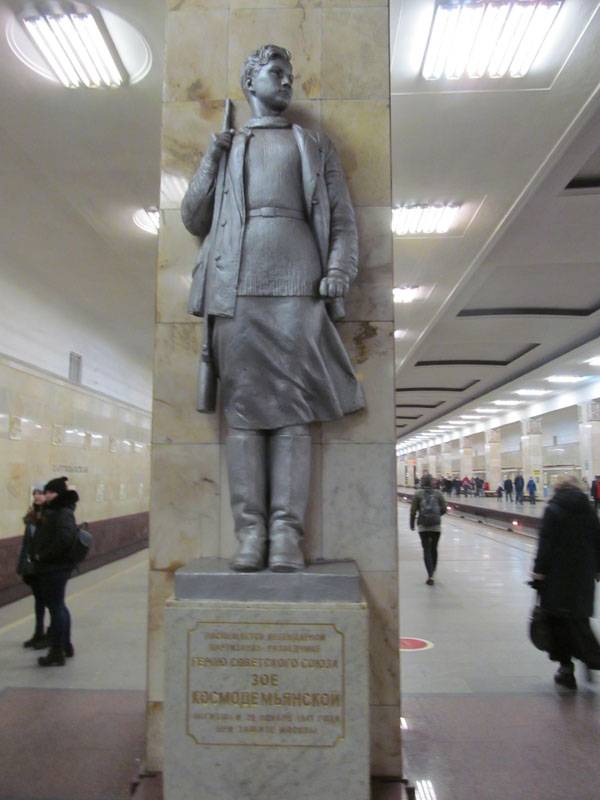 One of the monuments is at the Partizanskaya metro station in the Russian capital.