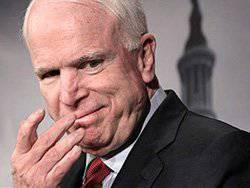 President Putin, when he was prime minister of Russia, once called Senator John McCain a psycho. Putin, possessing analytical thinking, mathematically calculated that if a person was put in a hole for several months (in Vietnamese captivity, McCain was really sitting in a hole), then all that remained of his common sense would be memories.
However, a lot of things happen in life, including miracles, one of which is Senator McCain: it must be admitted that not always and not everywhere does a person with serious mental disorders manage to reach such heights in politics as McCain has achieved, almost becoming the leader of the first the powers of the world.
On the eve of the first visit of the new leader of France, Francois Hollande to the United States, the newspaper Le Figaro was mistaken and interviewed John McCain. He spoke with a journalist about different things, but we are interested in his statements regarding Syria and Russia. So, Mr. McCain is worried about the situation in Syria, he is unhappy with the indecision of Barack Obama, he believes that the hooligans and the street crowd need to replace the regime of Bashar al-Assad. Here is what he says: "About 10.000, civilians in Syria were killed by the Bashar Assad regime during unfair fights with the help of Russian
weapons
and Iranian militants operating in the country. And the United States refuses to help! Some of the countries of the Persian Gulf, led by Saudi Arabia, intend to supply weapons to the rebels. However, the situation urgently requires American leadership. We could create a safe zone for resistance and supply him with a weapon, but America does not want to. This is a shameful episode of our
stories
. President Obama's "behind the scenes leadership" tells us that he does not believe in the exclusivity of the United States "(http://inosmi.ru/usa/20120517/192130866.html).
Of course, McCain does not understand that civilians are not killed, and if he considers armed people fighting for foreign money and weapons to be civilians from civilians, this is a diagnosis confirmed by the Russian leader. McCain also does not understand that all countries of the world have the right to choose their own way, the social system, and that they are not guilty if their choice is in contradiction with Western American values. But in his interview, discontent with Barack Obama, a mentally healthy person, who, you see, does not believe in the "exclusivity of the USA!", Is striking. What is this exclusivity, what is it expressed in and why should we believe in it?
There were periods in world history when one state was so superior to other countries in its civilizational development and military-political might that they unconditionally obeyed, recognized its greatness and superiority, learned from it. That was Rome, that was Persia (before the Macedonian defeat). Today between world powers there is no such gap either in civilizational or in other respects. Consequently, Americans who claim exclusivity do not understand that there is no difference between them and, say, Russians, English, Chinese and French, or it is so insignificant that it does not allow us to claim exclusivity. At one time, the exclusivity of Rome made it possible for the Roman emperors to implant their own people on the thrones of other states, and the inhabitants of these states were grateful for the decisions of the Romans and expressed a desire to learn from them. Today, the decisions of the American "emperors" in the uninjured states are either made hostile or they can be translated into life by demagogic rhetoric and brute force, but in any case they cause disgust. And in Libya, and in Iraq and Afghanistan, and in the former Yugoslavia, and in Egypt, and now in Syria, the American policy causes disgust, and then rejection. And how long the Americans manage to dictate their terms to the world, unacceptable to others, is unknown.
Of course, McCain is not the only psycho in the American establishment. And this can be tolerated. But more problematic is that the ideas of psychos successfully distribute mentally healthy people. So, recently in Uzbekistan a small scandal broke out, about which we had the pleasure to write. The US Ambassador, following the doctrine of exclusivity, appropriated the right to censor the press in the host country! (http://n-idea.am/ru/comments.php?id=19573). And such cases are by no means singular: there is no US representation in the states of the world, whose head would not be useless in domestic affairs and would not behave in a boorish way (except for Belarus, Cuba, a number of other states that miraculously preserved the sovereignty of their faithful allies) . In Armenia, the American ambassador even has his own faction in parliament, fabricated from the Heritage party and created by the former ambassador of the Free Democrats party. In general, these are the things ...
Of course, everyone is entitled to their own opinions, including Senator McCain. However, it is impossible to take away from others their rights to their own opinion, including the opinion of Senator McCain. And also on the opinion of Vladimir Putin.
I also have the right to an opinion, and in this regard I will say that I fully agree with the medical diagnosis of Vladimir Putin, who has no medical education, regarding the mental health of John McCain. And I categorically disagree with Senator McCain on the exclusivity of the United States, if only because genuine exclusivity does not need strong recognition — it will always and everywhere be welcomed.