The Federal Air Transport Agency, the Federal Agency for Air Transport of the Russian Federation, issued a type certificate for a specialized aircraft, which is designed to carry out aviation chemical works (T-500 / MB-500). In fact, we are talking about the first agricultural aircraft in the Russian Federation, which passed through certification.
The implementation of the certification program for this aircraft began last summer. The developer MV-500 is the company MVEN (Tatarstan). Over the years, the whole complex of tests was carried out, which ultimately confirmed all the declared characteristics of an agricultural aircraft.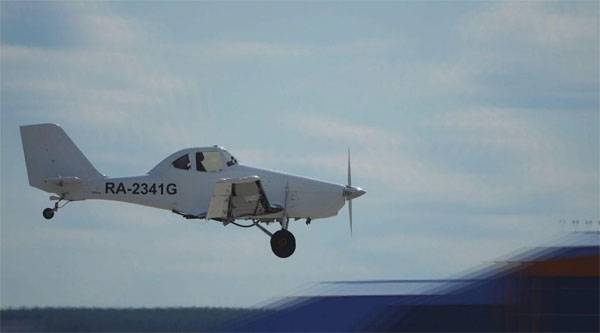 From the statement of the director of the cluster "Armament" corporation Rostec Sergey Abramov:
The obtained certificate allows you to start serial production of T-500 (MB-500) and commercial operation of aircraft in the fleet of leading customers. By the end of 2018, it is planned to launch 10 serial machines, in 2019, it is expected to reach production capacity of up to 120 aircraft per year. A number of ministries and departments, including the Ministry of Agriculture, the Federal Forestry Agency, and regions of the country expressed interest in an easy and economical machine.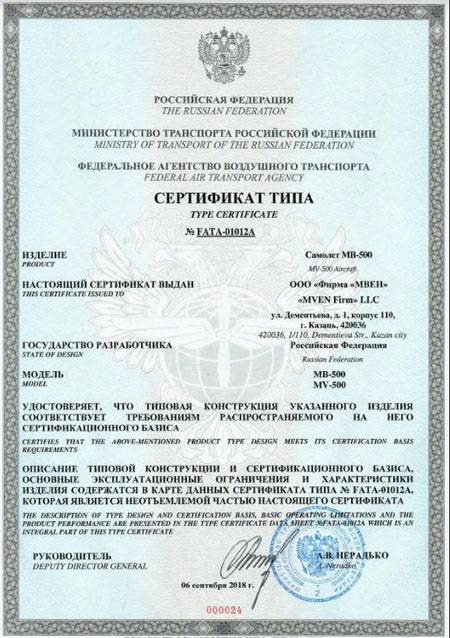 What is the T-500? The plane, the glider which is made of composite materials. This allows it to be operated in a variety of climatic conditions. The aircraft provides a high-speed parachute system, which ensures the rescue of the crew in a critical situation. The machine can be used not only for agricultural work, but also for monitoring the situation in fire-hazardous periods, for surveying industrial facilities from the air, for eliminating oil spills and other purposes. In fact, this is an attempt to replace such workhorses as An-2, which performed and continue to perform a truly enormous amount of work in various sectors of the economy, including the agricultural industry.
T-500 (MB-500) under the project "MVEN" is created by Obninsk Scientific-Production Enterprise "Tekhnika", which is part of RT-Chemcomposite Rostec, engaged in the manufacture of composite parts for airframes and glazing.