Former Minister of Defense, and now the Industrial Director of the Rostec Aviation Cluster, Anatoly Serdyukov told reporters about the testing of the latest combat helicopters. We are talking about the Mi-28HM helicopters. Three state-owned cars are planned for testing.
According to Serdyukov, one Mi-28HM helicopter is currently undergoing state tests. The work is carried out in the framework of the contract signed in 2017 by the Ministry of Defense and the holding company "Russian Helicopters".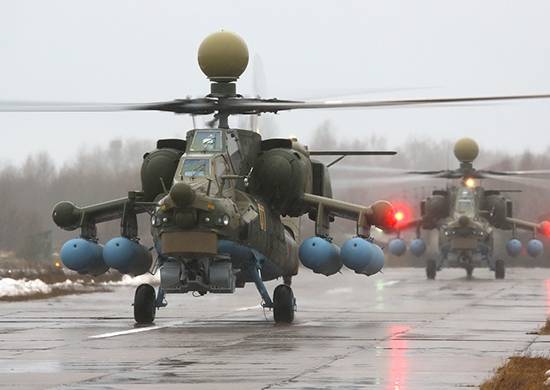 RIA News
cites the statement of Anatoly Serdyukov:
According to the contract signed at the end of last year, Russian Helicopters will hand over an installation batch of two more to the Ministry of Defense. They will also be involved in the trials.
Recall that earlier it was reported about the readiness to supply the troops with an installation batch of Mi-28HM helicopters until November 2018. This was reported by Andrei Boginsky, General Director of the Russian Helicopters holding company.
Mi-28NM - modernization of the "Night Hunter", which takes into account the operating experience of the training and combat helicopter Mi-28UB. So, in the front of the cockpit of the helicopter placed another control complex rotary-wing machine. The helicopter is equipped with a new aiming-flight-navigation complex with increased performance (talking about increased computing capabilities of the equipment and speed of its work)
It is reported that the upgrade allows the helicopter cockpit to withstand shelling of ammunition caliber to 20 mm. Modernized design of the fuel system of the helicopter, which completely eliminates the explosion and fire. The propeller blades are made of composites; in the end, even after the ammunition reaches in caliber up to 30 mm, the work of the propeller will make it possible to land the helicopter. Reduced helicopter visibility for enemy air defenses.