The Chilean army is armed with American helicopters. According to TSAMTO, citing the Infodefensa.com portal, the Chilean 30 Air Force of August at Pudahuel Air Base in Santiago, in the presence of Defense Minister Alberto Espina, officially received three S-70i Black Hawk (MH-60M) helicopters.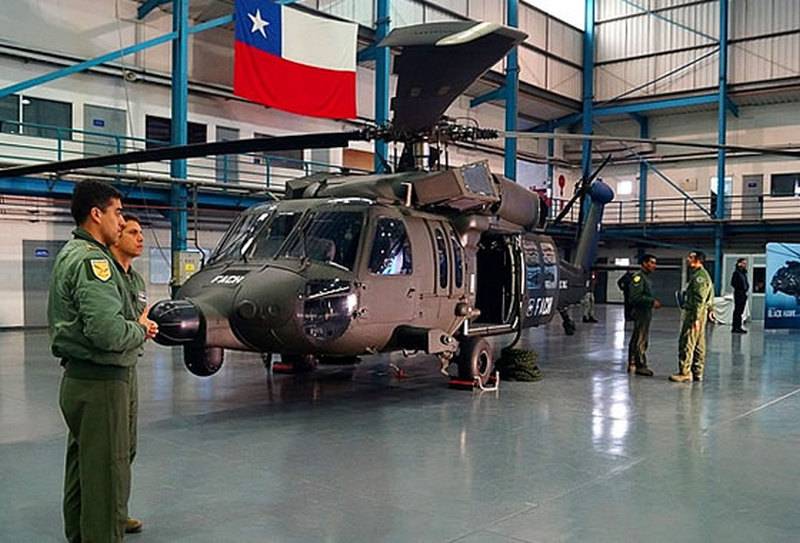 These three helicopters are the first batch of six ordered. All three received helicopters S-70i, differ in configuration. The first helicopter is delivered in the base, - without IR system of the forward review and filters for use in the desert. The second is equipped with short wings and a system for placing weapons on the outer suspension, as well as a filtration system for protection against sand. The third one is equipped with an infrared front visibility system, internal fuel tanks, a system of fast disembarking on cables and stretchers. All helicopters are equipped with meteo-radar, mounts for installing self-defense systems and machine guns.
It was reported earlier that the Chilean Air Force held a tender, which resulted in 2016 winning the multipurpose Black Hawk year, and a contract was signed with Sikorsky to supply the Black Hawk X-NUMX helicopters, which are being assembled in Poland. According to the contract, in addition to 6 helicopters, the Chilean Air Force receives material support, spare parts and ground equipment, as well as the amount of the agreement includes the training of pilots and technical personnel.
As stated in the Ministry of Defense of Chile, the remaining three helicopters will be received in October-November of this year. At the same time, it is not excluded that three additional S-70i Black Hawk helicopters will be purchased under the existing contract.