The site
Phys.org
dedicated to fresh science and technology
news
, it was reported that scientists from Japan are planning to test the "space elevator", thus becoming the pioneers in this area.
In the near future, a mini-prototype of such a "space elevator", whose length is 6 cm, width and height - 3 cm, will deliver an H-IIB rocket into orbit.
The H-IIB rocket of the Japanese space agency JAXA is a single-class middle-class carrier rocket. It can be used to launch an automatic H-II Transfer Vehicle to the orbital station, and also to transfer the payload to a geostationary or reference orbit.
The movement of the "space elevator" will be provided by the cable stretched between two satellites and controlled by cameras installed on the devices.
Successful testing of such an "elevator" will allow in the future to carry out cargo deliveries into space without the aid of rockets.
Japan is not going to stop there. So, the construction company
Obayashi
is already engaged in the development of a "space elevator", which by 2050 will deliver tourists into space.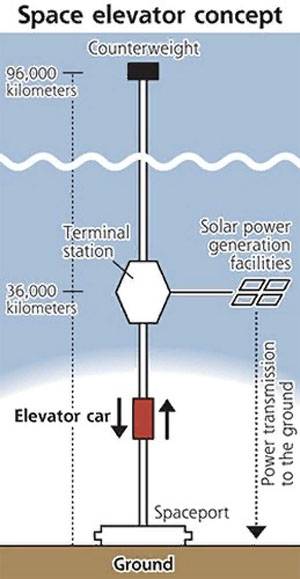 The company said that to create a cable with a length of 96 thousand kilometers, carbon nanotubes, which are more durable than steel, may be used. How these cables in the future can affect
aviation
movement, the company does not say.