Corvette "Loud" out of the floating dock
On Wednesday in Vladivostok, an operation was completed to remove the newest corvette "Loud" from the transport floating dock, reports
press office
Eastern Military District.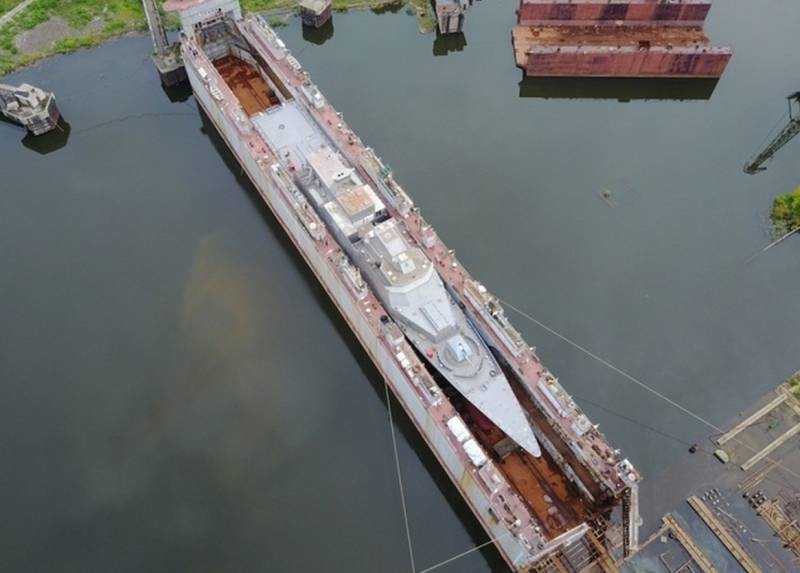 According to the press service, the ship was delivered in the floating dock "Zeya" to the main base of the Pacific
fleet
August 31 from the Amur plant.
After the corvette was removed from the dock, the tugboats secured it to the berth of the outbuilding base of the shipbuilding plant in Vladivostok. In the near future, mooring trials will continue at Loudcom, and preparation of the ship will begin for factory trials.
Corvette "Loud" is the second ship of the project 20380, built for the Pacific Fleet. The contract for their construction was signed in January 2006. The project developer is KB "Almaz". The ship was laid in April 2012. In 2014, the contract for its construction was renewed due to price revision. Launched from the plant slipway to the floating dock in July 2017. Transfer of the corvette to the customer was planned for the end of the current year.
The first ship of the specified project "Perfect" was transferred to the Pacific Fleet in July 2017.
The length of the corvette - 104,5 m, width - 13 m, displacement - 2.2 thousand tons, the maximum travel speed - 27 nodes.
Currently, the Amur Plant is building two more corvettes of this class in accordance with the contract of 2015.
bmpd.livejournal.com/www.khabkrai.ru