The authorities of Surgut are busy checking on the fact of supplying first-graders of local schools with diaries with strange "state" symbols.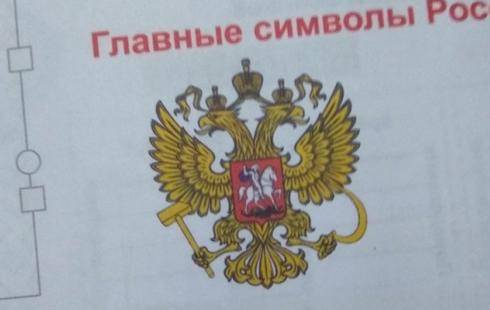 A few days ago on social networks photos of this symbolism appeared. The double-headed eagle holds a hammer and sickle in its paws. Moreover, in the very description in the same diary it was stated that he was holding "the scepter and the orb". Why the sickle became a power, and the hammer with a scepter, or vice versa - the authors of this "work" did not explain. Whether the author's a joke or an attempt to link symbols of different times, gone "to the masses", or a big bloop with a reference to the Austrian coat of arms.
Local authorities point out that as a result of the started inspection, all persons guilty of distorting the state symbols of the Russian Federation and coordinating materials that do not correspond to real symbols will be punished. How exactly in Surgut are going to punish the authors of the diaries, not reported.
This case is not the first of its kind. Either for some ridiculous mistake, or quite deliberately in recent times printed materials appear with distortions, for example,
stories
Great Patriotic War.
For example, residents of a number of Russian cities during the 9 May celebrations noticed "bloopers" depicting soldiers of the Nazi army instead of Red Army soldiers, depicting how instead of the Reichstag they are taking the Bolshoi Theater in Moscow. Incompetence or provocation? - It turned out in each case, but a clear answer to this question was usually not given. In the companies responsible for printing products, they usually stated that "a technical failure occurred."