In Ukraine, the regular exercises of NATO and partner countries of the North Atlantic Alliance started. The opening of the command post exercises Rapid Trident - 2018 was held on the basis of the "International Center for Peacekeeping and Security", located in the Lviv region.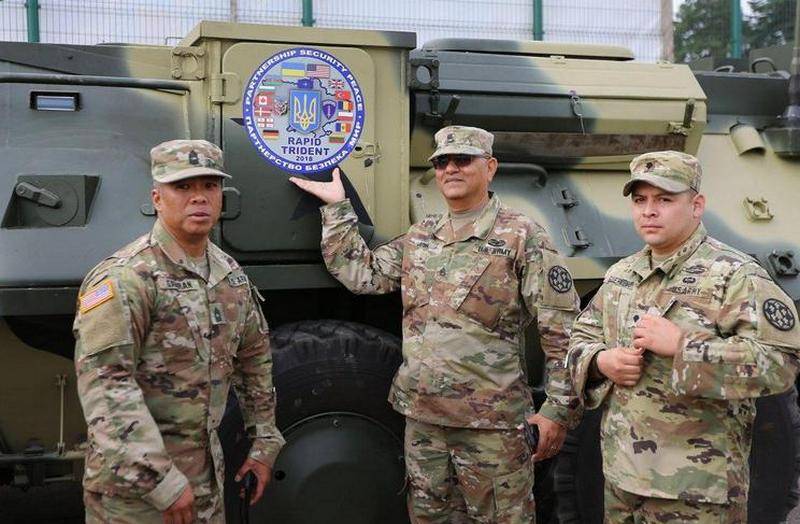 As reported in the press center Rapid Trident - 2018, command and staff exercises will be held in two stages and will last two weeks. More than 350 units of equipment and about 2200 military personnel from various countries will take part in the exercises. Headquarters and logistics centers will take part in the first phase of the exercise; during the second phase of the exercise, field exercises are scheduled at the Yavoriv training ground to work out various combat missions, including peacekeeping operations.
According to the Ukrainian media, these exercises are the largest joint exercises of the Armed Forces of Ukraine, the National Guard and other power structures of Ukraine and the divisions of the NATO countries. Launched exercises adopted units of 14 countries, of which 10 of NATO countries and 4 partner countries. As always, the United States is at the head of the exercise, followed by the countries of the alliance - these are the United Kingdom, Germany, Romania, Poland, Turkey, Bulgaria, Canada, Lithuania, Denmark and the four countries that are partners of NATO - Ukraine, Georgia, Moldova, Azerbaijan.
In addition to them, military personnel of the multinational Litpolukrbrig (Lithuanian-Polish-Ukrainian brigade named after the great hetman Konstantin Ostrogsky) take part in the exercises.