Modern gunsmiths are working to improve
weapons
so that with the help of this weapon it was possible to carry out safe shooting for the shooter from the corner or from the shelter. Engineers offer their version of small arms
Corner shot
. We are talking about a very intricate device, which is used for shooting a pistol by the shooter, who is around the corner from the target.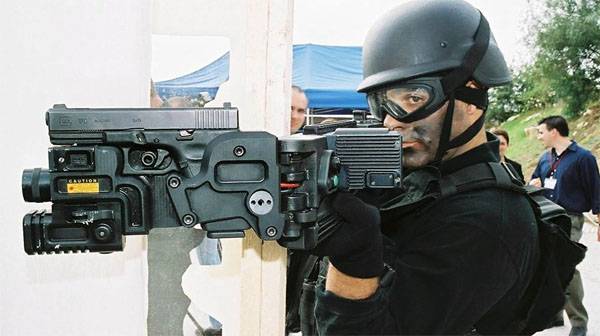 The name of the company Corner Shot, in which American and Israeli specialists work, speaks for itself - "Shooting from around the corner."
However, not only shooting from the corner with pistols, this company specializes in creating a "corner device". The device can allow shooting from around the corner with automatic weapons. It is a modification of the device.
The device can be set the angle of the direction of shooting, which allows the use of pistols or assault rifles for firing from shelters - when the shooter himself does not directly see the target. Changing the angle when shooting allows a special hinge, handle mechanical control which is located at the bottom of the device.
In the western blogosphere, a device was compared to a selfie stick - in the sense that the trigger is controlled (like a button on a smartphone) remotely - in this case, everything is purely mechanical.
A novelty device is not called. Innovation, perhaps, in attempts to integrate a rapid-fire (automatic) weapon to this "angular stem holder". Also, innovation - in the presence of the camera, which allows the arrow to determine the aiming.
But how can you install an automatic device on this device? The company notes that this can be done for automatic with a folding butt. Or you have to get rid of the butt yourself beforehand.