Ukrainian media found drug addicts in the Armed Forces of Ukraine on the front lines. Can not be...
Ukrainian military in combat positions take drugs and psychostimulants. And this is not just another report from the representatives of the operational command of the DPR. This is the data of the Ukrainian military and journalists.
How widespread is this problem, which is not customary to talk about in Ukraine, the Ukrainian tried to figure out
news
Portal "Apostrophe".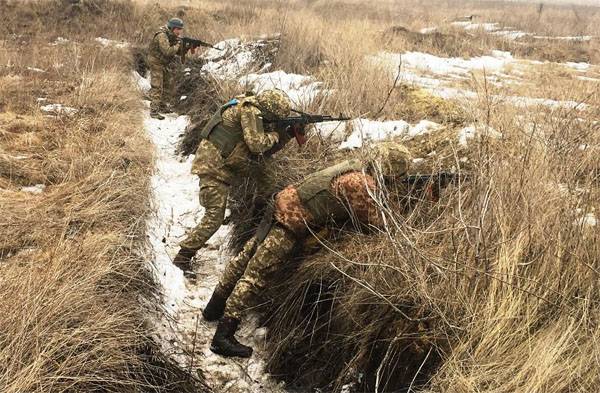 In particular, "Apostrof" found that there is no official statistics on the number of APU fighters taking drugs. This is due, primarily, to the fact that it can have an extremely negative impact on the future of military personnel. As explained by a source in the Armed Forces of Ukraine, no one himself admits that he is a drug addict, since it means "a stigma on his career."
However, the facts of drug use in combat positions are present, as evidenced by experts interviewed by "Apostrophe".
According to military psychologist Andrei Kozinchuk, the problem of the use of prohibited substances applies not only to the army, but also to society as a whole, as many are beginning to "indulge" in drugs in their school years.
Most often, as noted by the source
"Apostrophe"
, the Ukrainian military everywhere allow themselves amphetamines and other narcotic drugs (use in the Russian Federation is punishable under criminal law). These substances supposedly help to feel vigorous, to aggravate feelings. There are also cases of abuse of potent military anesthetics, opium drugs prescribed after injury or trauma, "says psychologist Svetlana Litvinchuk.
The "apostrophe" also found out that it is not particularly difficult for the military to get such narcotic substances, since there are several ways to deliver prohibited substances, including through the commanding staff or volunteers.
For the most part, ordinary ordinary Ukrainian Armed Forces involved in outfits and on duty are sitting on drugs. The military of a higher rank prefer other methods of psychological relief, such as alcohol doping. Those avatars in uniform.
Such drug-addicted fighters, of course, pose a threat to others, first of all, by their unpredictable behavior, which can cause physical harm to health.
To cope with this kind of addiction requires skilled medical care, but many simply do not seek it. In addition, in conditions of intense hostilities, it is simply impossible to get rid of drug addiction, "says Svetlana Litvinchuk.