Today, rallies will be held across the country, which are announced by the organizers as actions against the implementation of the announced pension reform. Recall that after the "correction" of the proposals made by the president, the retirement age will be increased by 5 years for both the male and female population of the country to the 2028 year. The president stated that "time cannot be delayed," and that "pension reform is long overdue." The president also noted that opposition forces could take advantage of the situation amid discontent on the part of citizens.
In other words, the authorities are well aware that the pension reform can push the country to a split, that they themselves will lose an impressive percentage of the rating, but nevertheless the process has already been launched.
The opposition is really trying to take advantage of the situation. On the organization of the rally under the loud slogan "We will not allow social terror of the authorities against their own people!" announced in the Communist Party. One of the issues that the Communist Party is going to raise during the rally, is the question of a nationwide referendum on the issue of advanced pension reform.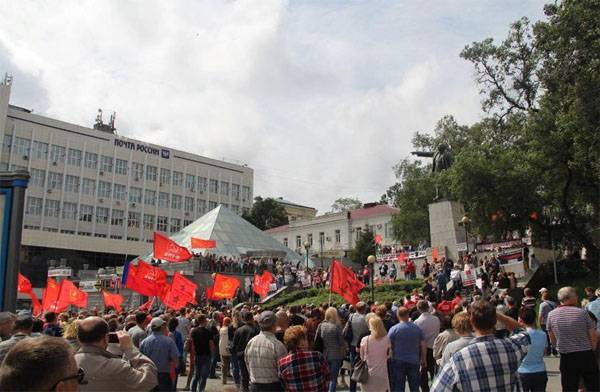 Communist Party rally in Vladivostok
Their meetings will hold the party "Fair Russia". The "No to Pension Reform" campaign starts today in Moscow on Suvorov Square in 12: 00.
On the website of the Liberal Democratic Party there are no reports of readiness to organize their own rally or to connect to other speeches, however, the "thematic" statements of the deputy from the LDPR faction in the State Duma Yaroslav Nilov (chairman of the State Duma Committee on Labor) were published. The MP proposes to consider the possibility of increasing the size of pensions without raising the retirement age. According to Nilov, these ideas have already been formulated.
Experts drew attention to the fact that for the first time in a long time the Duma opposition was actually allowed to declare that it is an opposition. At the same time, a probable reason was noted: the number of deputies from the opposition is such that they ultimately do not decide anything anyway, but give the people reason to believe that there is a constructive and efficient opposition in the country.