The style of Dasha Aslamova team Orhan
In social networks, the passions surrounding the murder of three Russian journalists in Central Africa are not subsiding. Tellingly, the opinions of the journalistic community and security specialists of these very media in the hot spots differ dramatically. Let's try to cross the hedgehog and the grassland and find some consensus.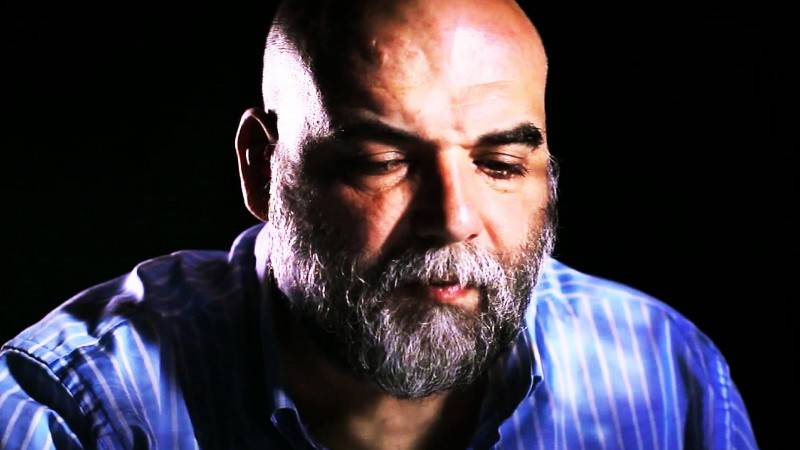 We all work this way!
"What the hell are they writing about dead Russian journalists in Africa ?! - indignantly wrote on Facebook past more than a dozen wars and hot spots correspondent of "Komsomolskaya Pravda" Daria Aslamova. - They say that they themselves are to blame, they did not have accreditation, and they went on a tourist visa. Yes, everyone does it! You will never receive accreditation in a belligerent or troubled or closed country. The only exception is Syria. WE'RE ALL WORK SO! "

It really is. None of the official bodies simply will not give accreditation to journalists - it's more expensive. And, without having expected it, all the freelancers of the world go to war for sensational reporting and a good fee at their own risk and peril. Sometimes they die. But still going. This profession is like heroin. To jump from it is very problematic. But this does not mean that you need to climb on the rampage and do not protect yourself at least a beautiful legend.
"Of the seven trips to Afghanistan, I have never had accreditation - they simply do not give it, because the authorities do not want to be responsible for the safety of journalists," a desperate journalist who received the nickname "Dasha Daredevil" in the media community develops her mind. - 1994, Rwanda, civil war and genocide. I drove there by private invitation. In Sierra Leone, where there was a great massacre, a visa waited a month. Not allowed. Flew to Guinea, from where Ukrainian pilots took me. I didn't have accreditation, but even a visa! No! Egyptian revolution. Arrested, went to jail, like many journalists, since no one had accreditation. She worked five times in Iraq without accreditation, like all correspondents. Entered as a tourist. Another African war is in Mali. In the dead of night in the desert a car broke down (I, the translator and the driver) in the most dangerous place - on the one hand, the Islamists, on the other - ordinary bandits. And it is not known which is worse. Waiting for help for several hours. Sat quietly like mice. Lucky. Turkey, Diyarbakir, Kurdish city shot from
tanks
. I drove in with a small handbag and in a short skirt. Missed. I did not have time to interview the famous lawyer with whom I spoke on the phone. He was shot in the city center when he gave a press conference ... "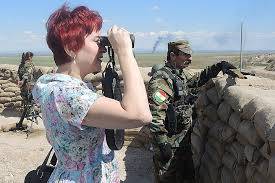 In fact, this list is even more impressive. Apparently, Dasha-daredevil really loves to walk on the edge of a knife. And, admittedly, she is fatally lucky. Except for a couple of cases, when her life really hung in the balance.
The author of these lines for some time worked together with Darya in one of the countries not closest to them and is well acquainted with her method of entering the country and obtaining information. The technology is simple, effective and just as dangerous. First, Daria honestly and officially addresses the embassy of a country where war rages. Receives a polite refusal. After that, she strains all her personal connections (and they have extensive contacts with her). All options are used: from familiar, unfamiliar and completely unfamiliar foreign journalists (Daria knows English well) in this country or in some other, among those who are going to visit this country. Then the familiar and unfamiliar knights of the cloak and dagger are activated - acting and retired. Someone will send an invitation.
If there are no connections, they are quickly developed; in the Internet age this is not a problem. Even a single journalist who fell into the orbit of her professional attention could not refuse a charming daredevil even on Skype. Once in such a way to the war, Daria and there she is guided by her very specific attitudes.
"People are still writing here, they say, they were traveling without protection," Daria is simply unstoppable in her accusatory speech. - No, the journalists have no security at war! Who do we need to fuck ?! Even if they give you a man with a gun, what will he do against a real attack ?! They will give you a little man with a gun, who has a wife and children, and he will inevitably attract attention to you. He will immediately give up. And therefore body armor in a way - danger. Without them, there is a chance to look like a local or a tourist, or just a woman. The guard only makes it worse. Without it, you are neutral, and there is a chance to get out. I once traveled with security in 21 year in Nagorno-Karabakh, - it all ended up VERY bad. "
Guard for Orhan
We will not specify exactly how it ended (most importantly, Daria herself is alive and well), but we will analyze the charges by points.
The first. Apparently, Daria does not even admit that security can be professional. But you need to look for it not among the local basmachs who will agree to accompany you for three kopecks, and after the first shot they will scatter like rats, but among professionals who have gone through many local conflicts. There are plenty of these agencies in Russia. By the way, ironically, these are the very private security companies and private security contractors (mercenaries) whom the dead journalists were looking for in Africa. According to all the laws of the genre, before a trip of journalists to the country, these people should arrive "on the ground" two weeks before the arrival of the shark feathers. On earth, the security guards had to conduct a number of specific activities:
1. Check all group accommodation options (villas, hotels) and choose the most convenient and safe one, "punch" the owner, check for the presence of a fence, windows, doors, rear entrance, emergency exit, alarm, and consider evacuation options in the event of an emergency.
2. Protection on the ground should pick up and vehicles for the group - reliable and mobile. Moreover, there must be at least two machines, and there must be a radio link between them.
3. Ideally, cars and drivers should also be "punched", as they say, "before the second cousin of the great cousin".
4. It is the security that chooses all the options for the routes to the intended target plan and schedule.
And now - the most important thing. Services professionals cost money. And considerable ones. No self-respecting private security agency in the world will risk for three kopecks the lives of their employees, even for the sake of the most talented report Darya Aslamova. But as a rule, there is no extra money in the editorial offices. And the chief editors of their correspondent girls are sent to hot spots at their own peril and risk with encouraging instructions such as: "Well, you're a girl - get out ..." (he was an unwitting witness to such a conversation). So they get out as they can. And all can be unequal. And if the girls succeed, then the boys - not always. As demonstrated by the tragedy in South Africa ...
And finally. With such a voluntaristic approach to their own security, which Dasha-Sorvrigvolova publicly demonstrated, it makes no sense to talk about such a thing as developing a legend and options for covering up the operation. Although in all the special services of the world, the legend is one of the most complex and creative components of any planned operation. Moreover, this legend could be fed to the participants of the voyage themselves (so that they would not know about the true objectives of the trip). Before the trip, it was possible to launch an information otvodnjak into the country of arrival: they say, we are going under the roof of the United Nations to make a film about humanitarian disasters in Africa and AIDS. To do this, it was possible to stock up on relevant documents - even fake ones (Orhan and his group did not even have such). "On the ground" it was necessary to go to the official authorities - at least in the territory they control, and to interview two or two ministers for persuasiveness.
After that, frankly, a completely hospitable and all-understanding "receiving party" would be drawn, ready to cooperate and provide the necessary assistance - in the form of identifying the same security. And it would be possible to remove the Chekashnikovs ordered by Khodorkovsky in passing, in the course of the play, in the order of creative distraction (or additions to the plot).
But all of the above for modern fried catchers
News
- Chinese letter. In the meantime, they still prefer to act in the spirit and style of the Dasha-daredevil - perhaps it will blow through. Daria Aslamova has been carried so far (some tragic incidents do not count). Orkhan and his group did not blow. But the journalistic community, as you know, is true to its principles: here no one forgets anything (neither Masiuk, nor Politkovskaya, nor Dzhemal, nor many others) and no one is learning anything.
And there will never be extra money for the protection of journalists controlled by editors and their curators, in any case and under no circumstances. In any case, in Russia - for sure. "Girls get out" ... The vicious circle is closed.
So there will be new wars - there will be new reports of sharks and television cameras. Accordingly, there will be new victims among them. Unfortunately…
onkavkaz.com, from public sources