Fourteen years ago - September 1 2004 of the Year - in Beslan (North Ossetia), a gang of terrorists led by Rasul Khachbarov numbering more than 30 people seized the building of secondary school №1, according to the material prepared
RIA News
.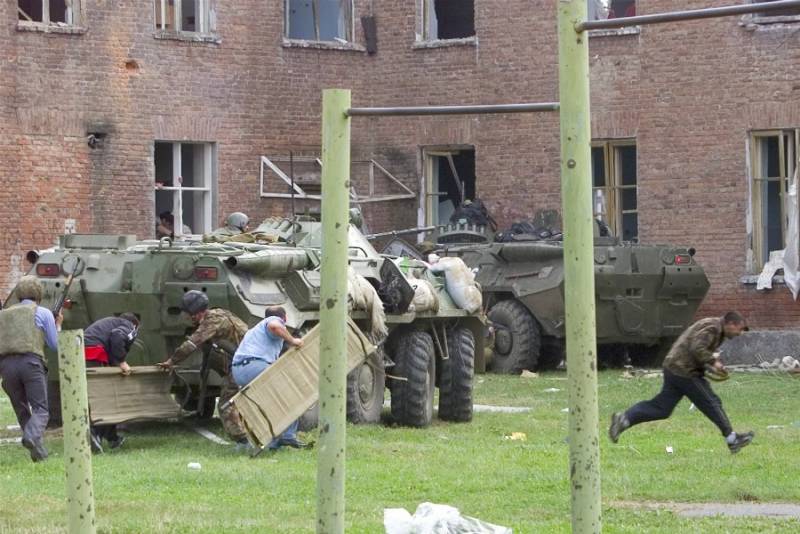 In the morning, during the festive line, a truck drove up to the schoolyard, from which armed people jumped out and, opening fire in the air, drove everyone in the school building. The number of hostages, as it was established later, was 1116 people, the vast majority of whom are children, including pre-school children.
After some time, the terrorists declared their desire to see the head of North Ossetia, Alexander Dzasokhov, the head of Ingushetia, Murat Zyazikov, and the head of the Institute of Disaster Medicine, Dr. Leonid Roshal, at the school. According to some reports, they also demanded the withdrawal of federal troops from Chechnya and the release of previously detained terrorists.
On September 2, the militants agreed to let the former President of Ingushetia Ruslan Aushev into school, who managed to convince the gangsters to release with him 26 hostages - women and children. Then the militants agreed to hand over the bodies of the hostages who died on the first day of the seizure.
On September 3, a car with Emergencies Ministry staff pulled over the bodies, but at that time two powerful explosions were heard in the school gymnasium. Shooting began, the hostages began to jump out of their windows from the gap formed in the wall.
As the investigators later explained, the explosions were spontaneous and provoked an unplanned storming of the building. The fight continued until late in the evening. The victims of the terrorists were 335 people, including 318 hostages, of whom 186 are children. Militiamen (Alpha and Vympel detachments) lost 10 people killed.
In total, in the case of an attack on a school, 1315 people were recognized as victims.
There were 32 people in the gang, only one survived - Nurpashi Kulayev. In 2006, he was sentenced to life imprisonment.
The school building, destroyed as a result of the fighting, was not restored. A memorial complex is opened on its territory, where people carry flowers on mourning days. An Orthodox church is being erected in the courtyard with donations from local residents and philanthropists from all over Russia. Currently it is finishing work.
Monuments to the victims of Beslan are also installed in Vladikavkaz, St. Petersburg, Moscow, in the village of Costa-Khetagurov (Karachay-Cherkessia) and Florence (Italy).