Day of knowledge. More than 15 million schoolchildren sit at school desks
Today, Russia celebrates the Day of Knowledge. Millions of schoolchildren and students from Kamchatka to Kaliningrad, from Derbent to Arkhangelsk will sit at their desks and begin a new school year. Learning activities will begin for 15,6 million schoolchildren, of whom about 1,8 million are first graders.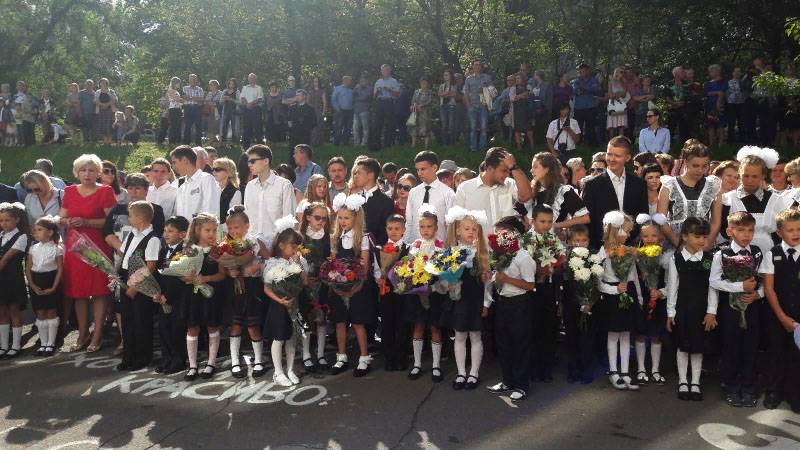 September 1 2018 opens its doors to 67 new schools. During the 2018-2019 school year, 119 schools across Russia will be put into operation. As a result, almost 100 thousands of new jobs will appear in the country.
Over the past 4-5 years, the number of places in kindergartens has grown by about half a million. This became possible thanks to the opening of new kindergartens and kindergartens of the nursery type. As noted, by the year 2021 it is planned to completely close the problem of lack of places in kindergartens for children from the ages of 3 to 7.
Olga Vasilyeva, Minister of Education, congratulated the citizens of the country on the Day of Knowledge. From her congratulations:
I congratulate you on the Day of Knowledge - a holiday that annually opens a new page for the young citizens of our country in the wonderful world of knowledge.

Knowledge Day symbolizes the beginning of the journey. And as any road has its own direction, the way of mastering knowledge is also closely related to the goal that each student defines for himself. Therefore, on such a solemn day, those who study and teach begin the path not only to their future, but also to the future of our country.

Dear friends! On this holiday, I wish all schoolchildren of our country success in mastering the sciences. Teachers - joy for the achievements of their wards. Parents - patience and pride in their children.
The minister noted that by the end of this year (2018, calendar), the Ministry of Education will complete the formation of a federal list of textbooks for Russian schools. Olga Vasilyeva added that the ministry has already adopted a common historical and cultural standard in education and a substantive concept on the Russian language and literature.