The situation around Syria still remains so complex and unpredictable that not every expert will take to predict its development at least a month in advance. Here and the threat of provocation with chemical
weapons
, and a possible strike by the Americans on the positions of government forces, and talk of a planned attack by militants on Aleppo, and, conversely, suspicions that government forces are about to launch an attack on Idlib ... Add to this the political ambitions of Turkey and the Gulf monarchies, the American "swing »With the withdrawal-non-withdrawal of troops, the threat to introduce some no-fly zones and other factors that clearly do not bring stability to the situation.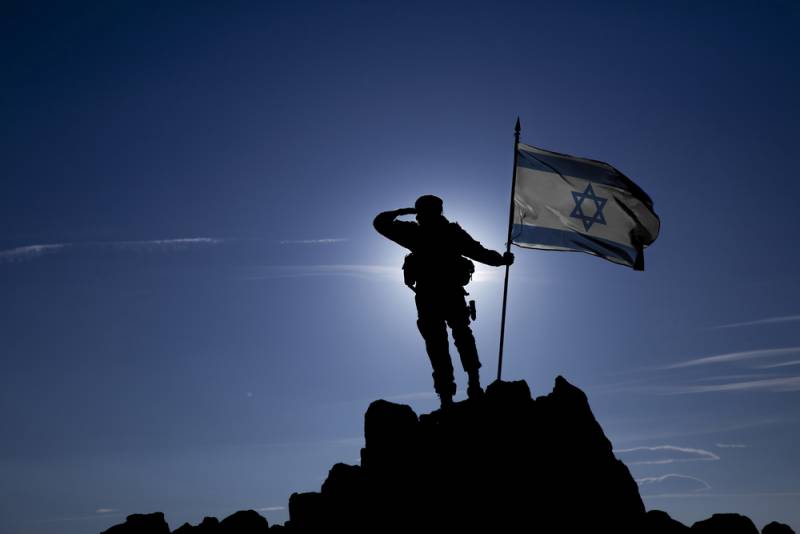 Against this background, an unexpected island of stability seemed to be Russian-Israeli relations. Although they were not perfect - Israel did not hide its rejection of the Iranian presence in Syria, and even repeatedly struck at the positions of Iranian units. But at the same time, Tel Aviv really tried its best not to quarrel with Moscow and avoid any incidents between the military of the two countries. For this, a "straight line" was created between the Israel Self-Defense Forces headquarters and Khmeymim's Russian military base, the chiefs of headquarters of the two countries quite regularly meet with each other as part of representative military expert groups, great efforts are being made to ensure that the aircraft of the two countries limited theater, avoided collisions and abnormal situations.
Separately, it should be noted that Israel actually ceased supporting any formations of the Syrian opposition acting against Assad. Moreover, it seems that Assad himself is not a target for Israel and its intelligence services. And this is quite unexpected (though very pragmatic) against the background of decades of open military confrontation between Israel and Syria.
Even the influential British newspaper Financial Times wrote about how good Russian-Israeli relations can be called. An article devoted to this issue was published there recently, and its authors, we must give them their due, tried to approach the coverage of Putin-Netanyah's relations as correctly as possible.
The British also note the successful diplomacy of the Kremlin, which manages to conduct active work throughout the entire Middle East region, including its poles such as Israel and Iran. And the correctness of the Israeli leadership, who also do not like the attempts of the West to rewrite
history
World War II and minimize the role of the USSR in the victory over fascism. Separately, it is noted that Israel did not support Western sanctions against Russia, as well as he ignored other anti-Russian demarches, such as a mass expulsion of diplomats.
According to experts cited in the article (both Western and Russian), Putin does not just consider the military force of Israel (although the Israeli ambassador in Moscow thinks that way), but understands Israeli concern about the strengthening of Iran's positions on the border with Israel. For Tel Aviv, this is really a matter of survival, and such categories are well known and understandable to Putin.
It is the close and quite frequent communication of Putin and Netanyahu that helps the Russian president to better perceive the Israeli concern over the development of Syrian-Iranian relations. And realizing this, he more easily accepts both political and military demarches of the Israelis.
Separately, it is noted that Putin probably does not fully trust Tehran. And for him, Israel is also a counterbalance to Iran's too big ambitions. Of course, this is a very controversial statement from the series "I read the thoughts of GDP just now and this is what I found there," but we cannot completely exclude this option either.
And now, against the background of this Russian-Israeli idyll, an event is taking place that can lead to the greatest test of relations between the two countries.
Bashar Assad and the Iranian Brigadier General Amir Khatami signed an agreement on military cooperation between Syria and Iran. Unfortunately, we do not know his details, but the Israeli side immediately expressed its strong rejection of this agreement.
Israel's intelligence minister, Israel Katz, in an interview with Israeli television, said that by signing an agreement on military cooperation between Syria and Iran, Bashar Asad had crossed the "red line" established by Israel.
Israel will not allow Iran to settle in Syria. We will act with all our strength against creating any Iranian position in Syria that threatens the state of Israel
Israeli Prime Minister Benjamin Netanyahu also did not hesitate in expressions and threatened to strike both the Syrian government facilities and the positions of Iranian units in Syria.
According to some experts, these statements should be taken very seriously. In one or two weeks, we can probably expect the Israeli air force to strike Syria. And this is in conditions where the situations around Damascus are already extremely tense.
The likelihood that Assad went to sign this agreement without consulting with Moscow is very small - he is well aware that any confrontation with the Kremlin threatens to withdraw Russian troops from Syria, after which no one will lose any time from the Syrian army, Iranian formations, the Americans with the Israelis for a couple of weeks will leave only a wet place. Therefore, let us immediately discard this version.
The agreement of Moscow means that either this agreement is not so fatal for Israel, or the stories about the idyll existing between Israel and Moscow are greatly exaggerated. In the first case, it turns out that there are no points critical for Israel in the agreement - neither the long-term military presence, nor the Iranian military bases there probably are not spelled out.
But the second option is more interesting. It means, at least, that Russia has finally decided on the choice of a long-term strategy in the confrontation with the West, and a strategic partnership with Iran is preferable for Moscow to mutual smacking on the Russian-Israeli direction.
It looks quite logical - Iran itself is under American sanctions, it is an important player in the energy market and a serious factor of pressure on the Gulf monarchies. If we consider that it is also a castle in the Central Asian direction, which protects Russia from American expansion to the shores of the Caspian Sea and to Kazakhstan (for which it is simply not ready), then this choice can be called really fundamental and correct.
But to understand whether this is so, we can no sooner than Israel will strike its blow. If this is a simple "gesture" in which the Israeli air force hits a couple of minor objects, it will be impossible for us to draw any definitive conclusions. But if the blow is powerful enough, and will affect, including important objects of the Syrian army and government, doubts can be discarded.
So we are waiting to see whether Israel itself will go to the intersection of the "red line".