Joseph Kobzon died
Radio station "Moscow says" with reference to the relatives of Joseph Kobzon informs about the death of the singer and deputy. Joseph Davydovich was 80 years old. 11 September he would have turned 81 year.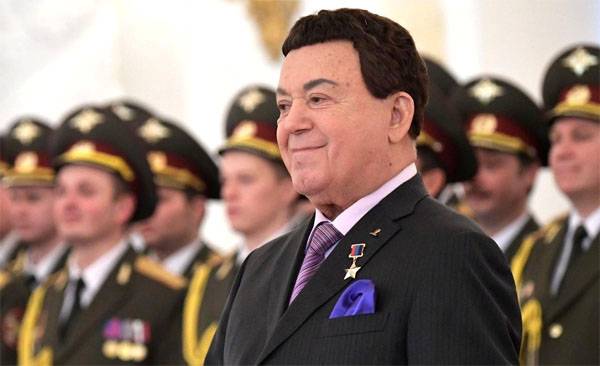 Earlier it was reported that People's Artist of the USSR 27 July was urgently hospitalized in one of the clinics - in the neurosurgery department. All this time, Kobzon has been connected to a ventilator. Physicians rated his condition as stably severe.
According to some reports, the singer underwent an additional course of chemotherapy. An oncological disease in a folk artist was diagnosed as early as 2005.
Since 2011, Iosif Kobzon served as First Deputy Duma Committee on Culture. Since 2014, he has been engaged in organizing assistance to the Donbas facing Kiev aggression. Joseph Davydovich was born exactly in the Donbas - in the locality of Chasov Yar. He visited the LDNR, personally gave help to the needy.
Iosif Kobzon had a huge number of titles, regalia and awards, including the title of Hero of Labor of the Russian Federation, the Order of Merit for the Fatherland. Not so long ago in the DPR, the singer was given the title of Hero of the Donetsk People's Republic.
Several generations of compatriots are familiar with the work of Joseph Kobzon. The performance of some famous songs is still considered (and is considered by right) as a reference.
"Military Review" expresses condolences to the families and friends of Joseph Kobzon.