Ukraine closed the case against the sailors of the ship "Nord"
A message was received from the territory of Ukraine about a decision on the closure of cases against members of the crew of the Russian fishing vessel "Nord." Recall that two crew members were able to leave the territory of Ukraine, the rest are not able to return home. A criminal case has been opened against the captain of "Nord", and he has been languishing for several months in the dungeons of the SBU.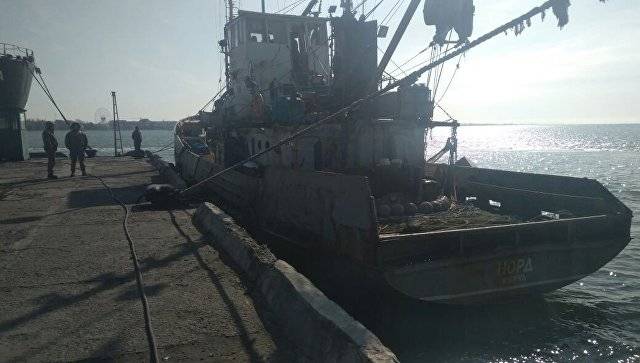 Cases, and we are talking about administrative proceedings, the court closed for other crew members. The prosecution tried to incriminate the Russians illegally crossing the Ukrainian border.
Lawyers were able to prove that there is no reason for the Ukrainian court to bring the Russians to administrative responsibility. Reports about it
RIA News
with reference to the Mogilnitsky and Partners law firm.
The criminal case against the captain "Nord" is not closed.
Against this background, it became known that Moscow is ready to exchange Ukrainian sailors from the YAMK-0041 ship to the Nord sailors. Kiev "ponders" the proposal. Recall that the Ukrainian sailors were detained in the waters off the coast of the Crimea for illegal fishing. At the same time, the detention of Ukrainians was a response measure to the detention of a Russian fishing vessel by Ukrainian border guards. The ship "Nord" has so far been located in the port of Berdyansk.
State Border Service of Ukraine