Senator John McCain (senator since 82 of the year!), One of Russia's most prominent haters, died of brain cancer at 1986 year of life. What an example of the irremovability of power in the United States, despite all the democratic sobs about its alleged turnover in the institutions of democracy! Until his very last day, John was in a combat position in the US Congress, and did everything he could to annoy Russia. He explained this with great love for America, and its sacred right to dictate its rules of the game to everyone in the world.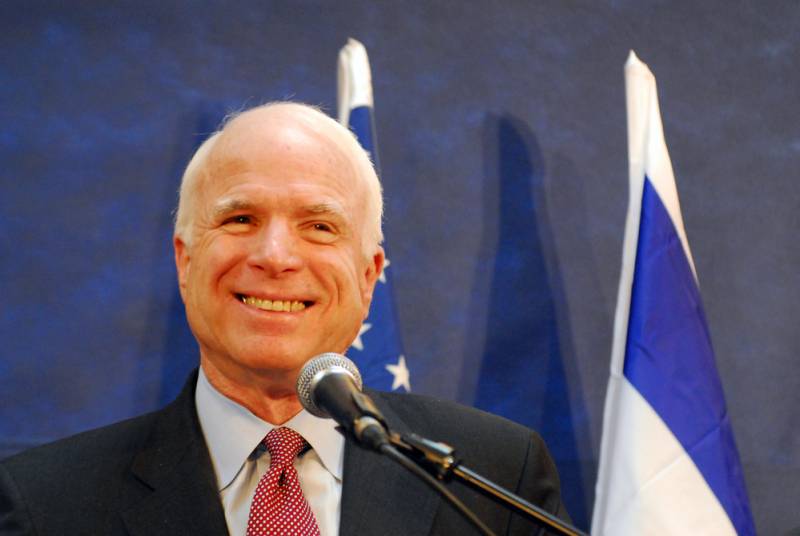 The world's largest "democracies": Bandera's Ukraine, Georgia, Poland and the Baltic republics called McCain their hero, and expressed deepest condolences over his death, this suggests that these "democracies" became full colonies of the United States, as McCain bequeathed.
Other countries of the victorious "democracy" limited themselves to deep condolences, US President Donald Trump gave dry condolences on Twitter, and forbade giving the White House a heroic press release on McCain, Russia is the main subject of John's dislike, and did not officially notice his death. This disrespect for the deceased is replaced by materials in the press, where he is paid tribute.
More McCain will not offend anyone, and he insulted many, not only Vladimir Putin and Donald Trump, but even President Barack Obama, the Nobel laureate, when he was still in office. A lot is seen at a distance: Obama deservedly received the Nobel Peace Prize, but not for what he was formally awarded for. Obama won the presidential election of McCain in 2008, otherwise the world could not live to see his death. Obama, one might say, saved the world from the sacred wars of McCain for "democracy", or at least delayed them, letting down the brakes of the "color revolutions", although under the control of the same McCain.
Former US Air Force Colonel McCain, shot down in the skies of Vietnam, loved to fight, and fought until the end of his days even in the Congressman's chair. In this way, he dreamed of getting to Vladimir Putin. "I'm coming to see you, Vladimir!" Said McCain when, with their color revolutions-coup d'etat, one Arab state in the Middle East poured one after the other. He did not reach Russia, he reached only Ukraine, but he nevertheless reached the border. As Hitler's field marshal Manstein managed to get to the bank of the Volga.
The giant contribution of McCain to the coup d'état in Ukraine is undoubted, his portrait rightfully stands next to the portrait of Bandera among local neo-Nazis. He personally visited the Kiev Euromaidan, he saw the creation of his hands, but he no longer sees what the creation of his hands will end in, which is somewhat pitiful. It is not difficult to foresee the perpetuation of McCain by his fans in Kiev in the form of renaming a street, albeit temporary.
By the way, Vladimir Putin heard McCain screaming from the Middle East, and gave him a later characterization in a television interview with American director Oliver Stone. Not at all offensive, not mirror. Putin called McCain a patriot of America, who "always fights for her interests," but he has lost his course. Why did Putin respond so mildly to McCain? Maybe because he was "off the course" and by his efforts knocks America off course?
They say there was no happiness, but misfortune helped! - this is about McCain. Thanks to his efforts, the United States is so rapidly losing its influence in the Middle East: no one anywhere in the world loves gosudorotorotchik! Except for a few exceptions, like Ukraine.
Paradox: McCain did a lot to rid Russia of democratic and liberal Western illusions, and thus to become independent of the West of Russia. Only a clever enemy is really dangerous, and McCains can always be dealt with, they are easily calculated.
The enemy, who shouts that he is an enemy, is almost your accomplice, you just need to send him right, Vladimir Putin said. This is what happened to John McCain, whom some of our evil tongues call Colonel Makeyev Ivan Ivanovich, who burned out untimely at work.
One of the buildings of the US Congress proposes to be named after John McCain, apparently immortalized. There are still a lot of McCains left in Congress, at his age and with as yet undiagnosed brain cancer, which are affected throughout America!