The US Senate spreads the message that John McCain passed away in the USA at the age of 81. In the office of McCain, this information was confirmed, saying that death had occurred at a time when members of his family, including his spouse, were with him.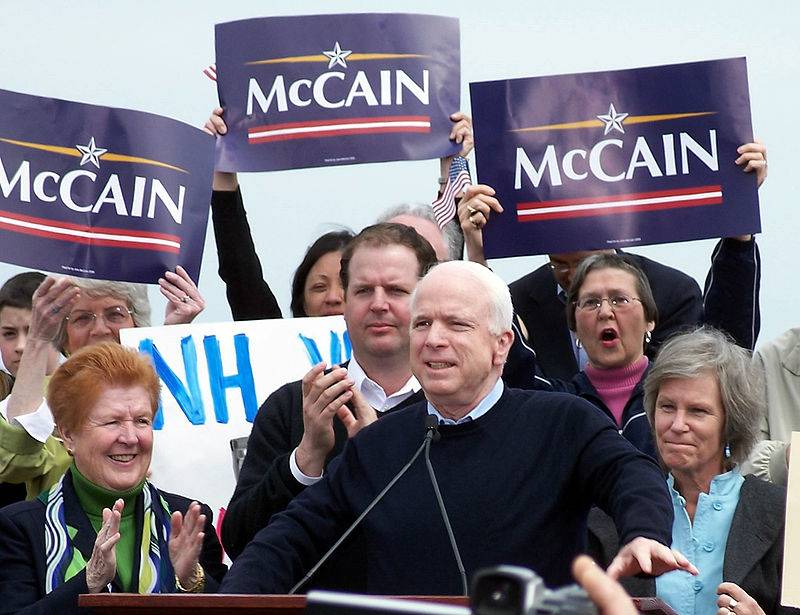 McCain has not recently appeared in the Senate, however, comments on events on the domestic and foreign (for the US) agenda have been published on his behalf on an almost constant basis. Recently, for McCain, he commented on Donald Trump's contacts with Russian President Vladimir Putin, arguing that Trump should not conduct any business with the Russian leader. Now there is no John McCain, but his case for the deterioration of Russian-American relations has someone to continue. At the moment, there are plenty of Russophobic senators in parliamentary circles in the United States. One example is McCain's close friend Lindsay Graham, who is one of the authors of the next package of sanctions against the Russian Federation.
McCain did not live to see his 82 anniversary for three days. He was born 29 August 1936, on the territory of the American airbase "Coco-Solo" in Panama. McCain's father is a US Navy officer. McCain himself decided to follow in the footsteps of his father, and in 1958 he graduated from the Naval Academy in Annapolis. The academy maintains evidence that, with demonstrated success in sports, John McCain was distinguished by an absurd character and was often seen in clashes and scandals.
On October 26, 1967, John McCain, who was flying a military aircraft, was shot down in Vietnam and was captured. After his release, McCain announced that he was "brutally tortured," but Vietnamese evidence suggests that John McCain was held in very reasonable conditions, unlike other American prisoners of war. The reason is that McCain's father at that time served as commander of the Pacific
fleet
The United States, and the Vietnamese (northerners), as noted, used McCain's content and its subsequent transfer to Washington for propaganda purposes. The US authorities also pursued their propaganda goals on McCain.
In the United States Senate, McCain was in 1986, entering the circle of 80-year-old owners of the senatorial "crust."
The funeral of McCain will be held at the state level. Recall that during his lifetime he "forbade" Trump to attend the farewell ceremony with him.