RIA News
With reference to sources at the Keldysh Institute of Applied Mathematics of the Russian Academy of Sciences, it reports that the telescope network, which controls space, has been restored and substantially updated. The network, which observed mainly the state of affairs in the area of ​​near-earth orbits of spacecraft, was actually destroyed simultaneously with the collapse of the USSR. Now a single network has been created that deals with more extensive monitoring.
The resumption of work of previously functioning observatories, including in Georgia and Ukraine, was noted.
A complete list of the ten observatories whose work could be restored is presented in the material of the information agency:
Uzhgorod (Ukraine), Abastumani (Georgia), Ussuriysk (Russia), Blagoveshchensk (Russia), Kitab (Uzbekistan), Gissar (Tajikistan), Sanglok (Tajikistan), Tarija (Bolivia), Huraltogot (Mongolia), Castel Grande (Switzerland ).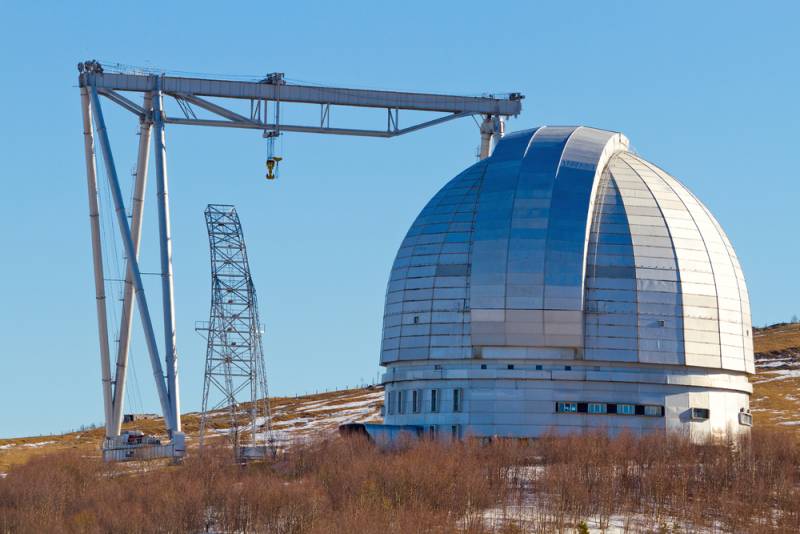 Space observation points were added to this network in Mexico, as well as in a number of Russian macroregions - in the Far East, including Kamchatka, in Altai, in Siberia. An observation point on Moldovan territory is also open.
Thus, as experts note, the geostationary orbit is under complete control. It is also possible to track the parameters of more distant space. The importance of monitoring the volume of space debris, modeling the convergence of spacecraft is noted.
The processing of colossal amounts of information is carried out using a supercomputer at the Keldysh Institute. Its performance is 100 trillion operations per second. The computer database stores data on 2,5 thousands of objects in geostationary orbit, about 3000 objects on the so-called high-elliptical orbit, and even before 400 - on medium-high near-circular orbit.
A truly colossal work was done to restore the space monitoring system that had ceased to exist in the 90s.