From the dry dock of the Odessa shipbuilding plant, the corvette Vinnitsa, belonging to the Ukrainian Navy, was launched. It is reported that the ship spent 11 months in dry dock. Initially planned complete modernization of "Vinnitsa" with the implementation of the necessary preliminary repair work. At the same time, in the initial estimate, the amount required for repairs amounted to 270 million UAH, and after a few months, when the ship was already in the dock, the estimate increased to half a billion hryvnia (about 1,3 billion rubles).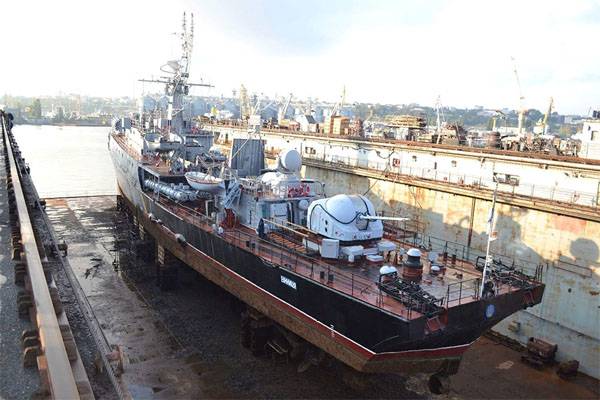 The command of the Ukrainian Navy refuses to comment on whether all necessary repair and modernization work has been completed. Against this background, there is information from local media in which it is stated that the country's defense ministry is considering the issue of writing off the Vinnitsa corvette due to a shortage of funds and the next rise in cost estimates for repairs and upgrades.
It should be noted that the issue of write-off of "Vinnitsa" was raised five years ago. The reason was that in November 2007, the ship was seriously damaged during a storm in Sevastopol. On the "Vinnitsa" the left side of the case was damaged. For several years, the ship tried to repair. The funds went away, but the situation practically did not move. In addition, corrosion of the underwater hull was detected. Radar equipment, hydroacoustic stations, other components and assemblies are not working on the ship.
For your information:
The corvette Vinnitsa (more precisely, the border patrol ship of the 1124P Albatross project) was laid at Zelenodolsk Shipyard in December 1975. Launched in September 1976. In December, 1976 was introduced into the 5 of the separate Balaklava brigade of border guard ships of the Western OK of the MCH KGB of the USSR. In 1996, the ship, which at that time bore the name "Dnepr", was transferred to the Ukrainian Navy and immediately renamed the "Vinnitsa", while at the same time being reclassified as a corvette.