NATO tanks will be destroyed: Russia began to develop new missiles
The High Precision Complexes holding, which had previously developed the Kornet anti-tank missile system, has launched a new project. Specialists began work on the creation of a new missile to defeat
tanks
. This became known during the military-technical forum "Army-2018".
To date, the tank is the leading shock combat unit in ground battles. For more than one year, many countries have modified the armor of their combat vehicles, equipping tanks with additional means of defense. In addition to the main armor, this includes dynamic protection, calculated against cumulative ammunition, and complexes capable of shooting down a projectile flying into a tank. Such a "sandwich" is very difficult to break through with obsolete rockets.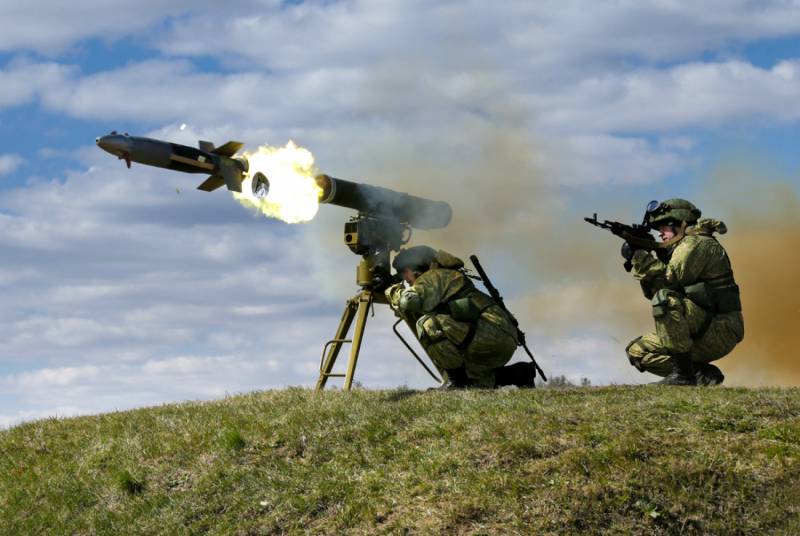 Of course, few armies of the world have the opportunity to equip their tank division with a modern "multi-layered" armor system, since such "equipment" costs a lot of money. Nevertheless, in the future, such developments will become widely available and cheaper, respectively, it is necessary to keep pace with the times and develop new technologies further.
That is why Russia has begun to develop new anti-tank missiles that will be able to destroy enemy tanks, in particular, even the most advanced NATO combat vehicles, equipped with modern means of protection and armor, with a single shot. In the conditions of military operations such an advantage can play a decisive role. Such parity will allow Russia to maintain its leading role in the military sphere.
"High-precision complexes" have not yet revealed the future name of the projected ammunition and its characteristics. More details will be known closer to the timing of the construction of the first test samples. Anyway, this
news
is very significant for our army, so we will follow the progress of work in this area.