A selection of declassified documents about the Battle of Kursk published by the Ministry of Defense of the Russian Federation
The site of the main defense department has published a selection of declassified documents relating to events related to one of the greatest battles in
stories
- Battle of Kursk. The publication is dedicated to the 75 anniversary of its triumphal for the Soviet troops end - the victory, after which the German fascist forces finally lost the strategic initiative in the war and rolled back to Berlin.
From the material:
A special place (...) is occupied by the directive of the Supreme Command Headquarters on the approval of the plan for the liberation of Kharkov - one of the final points of the strategic offensive of the Red Army on the Kursk Bulge.
The directive due to the special secrecy of the operation contains the legendary data of Soviet military leaders. So, under the pseudonym "Comrade Yuriev" and "Comrade Alexandrov" in it are George Zhukov and Alexander Vasilevsky.
Among the documents submitted by the Ministry of Defense is the combat report of the headquarters of the Central Front (dated July 15, 1943). It reports on the beginning of an offensive on the Kursk-Orlovsky direction and on advancing in a number of sectors (with stubborn resistance and attempts to counterattack the enemy) to a depth of 3 km.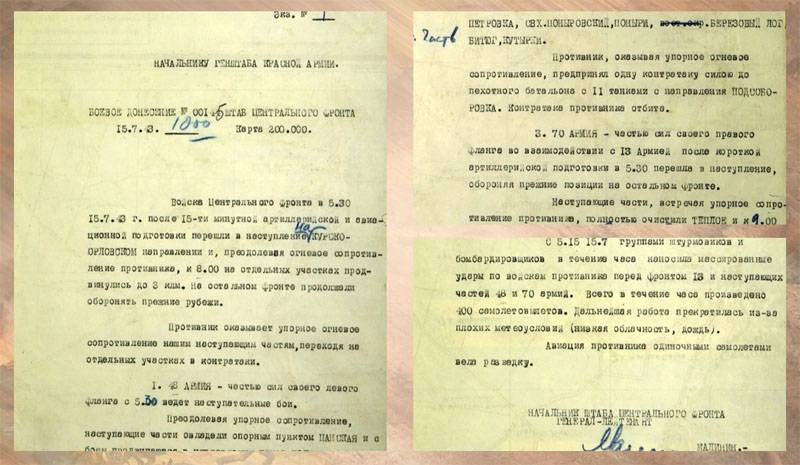 Among other documents published a report on the fighting of armored and mechanized troops (the time interval 5 July - 10 August 1943 year). In particular, a geographical description of the battle area is presented: from the north of the Bryansk-Oryol highway, from the south - the conditional line - Lebedin, Belgorod, Stary Oskol, from the west - the Desna River from Bryansk to Novgorod-Seversky and further along the conditional line Glukhov, Vorozhba Sumy.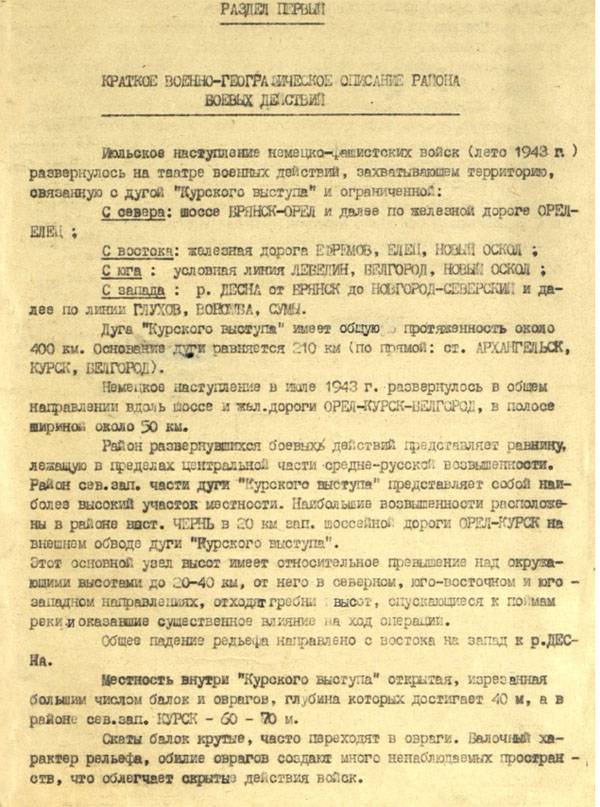 Among the documents are award sheets, certificates of the facts of heroism shown by the Red Army soldiers, the order for the liberation of Kharkov, etc. You can read all the published documents
here
.