Saga of the escape from dying Russia to a prosperous Ukraine
The post "Russians from Novokuznetsk who moved to permanent residence in Sevastopol" is walking on the Internet.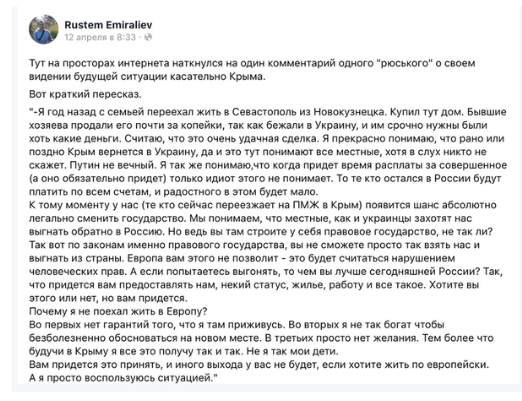 Small, finely floats ukropskaya propaganda! This
story
worthy of an epic about the unfortunate Russian family, which has undergone incredible trials on the way to the realization of the dream of his life - to emigrate to Ukraine.
We will not draw a saga, but we can sketch a brief outline of the future masterpiece.
The Pharaohs Saga
Family scandal
Mikhail Prokopovich stood at the door and nervously crumpled his cap in his hands.
Wife howled:
- How long will we live in this Raschka? Look, all the neighbors have already changed Russian citizenship into Ukrainian and are moving to Ukraine! Shlyapnikov changed his last name on Kapelyukh and goes to Zhytomyr, Noskov is now Shkarpetko and moves to Poltava, Chobitok has become Sapozhkov and is taking his family to Kherson. Soon we will be alone in the house. But we have the most rights to migrate to our historic homeland! Unlike them, we have a genuinely Ukrainian surname!
Mikhail looked dumbfounded at his spouse. He never thought that the last name Pharaoh has Ukrainian roots.
"Yes, papa," an 14-year-old son told him reproachfully, "everyone knows that the ancient ukry built the Egyptian pyramids, and the Pharaohs were Ukrainian Cossacks." This is a historical fact.
Prokopovich was silent. He knew that his surname had come from his great-great-great-grandfather, who served as a police officer.
- Anya ...
- Not Anya, but Gunn! How much can you repeat! Oh my God! My mother told me ...! Tomorrow, go to the Ukrainian embassy, ​​drop there on your knees, sob what you want to do, but the day after tomorrow we all have Ukrainian passports. We won't leave for Ukraine - I'm gonna stop and conscience will torment you all my life! Children will not forgive you!
"I won't forgive you," the son confirmed.
Mikhail Prokopovich barely restrained himself from spitting on the floor (sorry, the floor had just been washed) and left the apartment, slamming the door.
He himself understood that it was time to get out of this country. He could go to the UK, Germany, USA - but what should he do in these third world countries? If you leave, only to Ukraine.
Ukraine ... Throughout Russia, from Smolensk to Vladivostok, from Arkhangelsk to the Caucasus, "Ukraine" was breathed and rolled its eyes. A country where there is no evil Putin, officials do not take bribes, everyone can travel to Europe without a visa, milk and honey flow, they spend maidan every year ... He visited this divine country and spent his 2 year there were the best times of his life.
Oh, why he did not stay there? Why come back? He hoped to get some rest and wind up again in a blessed country, but Ukraine closed its doors to Russian guest workers and, as it turned out, forever.
Of course, there were ways to go to Ukraine, but ... expensive, very expensive, the services of black brokers even for him, a modest Russian billionaire. Mikhail Prokopovich took a cell phone out of his pocket, found the right phone in the contact list and sighed: apparently, you still have to sell a couple of dozen oil wells. But he and his family will be Ukrainian citizenship.
Black Broker Uncle Alik
- Uh, young man! It's not so easy as you think - a smart old man put Mikhail Prokopovich on a squeezed sofa - everyone now wants to go to Ukraine. Just see what is being done - he turned on the TV.
Against the background of the "112 Ukraine" screensaver, the man in embroidery and tie said hysterically:
- As immigrants from Africa flooded Europe, refugees from Muscovy fill Ukraine. This photo was taken today at the Ukrainian Embassy in Moscow.
Mikhail Prokopovich saw on the screen a multi-kilometer winding queue resting on a low building. Although Mikhail Prokopovich had never been to Moscow, the building seemed familiar to him. He was especially convinced of this when the towers of the Moscow Kremlin flashed in the background.
"So, the mausoleum of the Ukrainian embassy was handed over, but I did not know. Completely behind the times, "thought Mikhail Prokopovich with distress.
The man in the embroidery was replaced by a man in a uniform jacket.
- Today, customs officers have stopped another attempt to illegally cross the border of Ukraine. The carrier of sewing accessories, having decided to earn some money, tried to import two dozen Russians to Ukraine, declaring them at customs as dummies. All detainees were deported back to Russia.
Frames with gloomy men with their hands tied behind their backs, sobbing women and a resolute girl with a poster "I am a girl! I do not want to Russia! I want lace panties and Berdichev! "
"Yes," Uncle Alik sighed, "happy times have passed." Now you can't just cross the border. Only at night, bypassing posts ...
- I'm ready! - Mikhail Prokopovich jumped up.
"Dangerous," Uncle Alik shook his head. "If we run into frontier guards, you will be in big trouble." You may have to fight back improvised means.
Mikhail Prokopovich presented his spouse with a rolling pin at the ready and thought: "This is a big trouble for the border guards", however, he realized that he would not be able to offer a night walk through the thicket in his wading boots to his spoiled comfort mate.
- So, there is no way out? - Mikhail looked sadly at the broker.
- Did I say that? There is always a way out.
Uncle Edik sat next to Michael.
- This path is somewhat long, but it is absolutely reliable. 100% warranty!
Michael looked questioningly at the "seller of happiness."
- I arrange for you to move to the Crimea. Sooner or later, the Crimea, Voronezh, Belgorod, Kuban, etc., the native Ukrainian lands will become part of Ukraine. And those who manage to settle in these territories will become Ukrainians on quite legal grounds. Just need to hurry. And it is expensive. Very expensive.
Hearing this, Mikhail Prokopovich mentally added his own mineral oil to the oil wells - the gold mine.
Two months have passed
Mikhail Prokopovich asked the taxi driver to stop. The son and wife of Pharaoh came out and rushed to the clew under the rock.
- Our? - with delight shouted Pharaohs son. - Dad, is she ours?
"Ours," said Mikhail Prokopovich, and waved the paper issued to him in Simferopol, "ours forever."
Wife was silent. Tears of delight choked her.
Looking around and making sure that the taxi driver had left, Mikhail Prokopovich pulled out the flag of Ukraine from behind his bosom:
- The time will come and we will hoist it on the roof of our house. In the meantime, let him lie down here, and with these words put him in a hole at the threshold and cover him with stones.
And then the whole Pharaoh couple stood in front of the house and sang a hymn to Ukraine in a whisper.

PS From Clima Horseshoes
If any ukropsky patriotic publishing house wishes to publish "Saga of Foraonah", or a film company to film it, the author is ready to sell his copyright with the condition to transfer the fee due to him to the fund of Russian refugees who emigrated from Putin's regime to a free Ukraine.