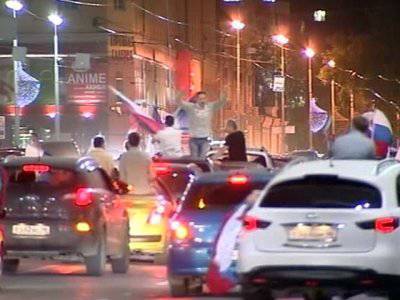 Russian hockey players are world hockey champions! In the decisive match with the 6: 2 score, they defeated opponents from Slovakia. True, at the beginning of the meeting, the Russians forced their fans to worry. They even had to recoup. But then the wards Zinetula Bilyaletdinov showed a real champion game. At this championship, our hockey players have not lost a single match. And deserved - for the fourth time in
stories
- have become the strongest on the planet. The victory was celebrated by fans in Moscow and other Russian cities.
The final whistle of the Czech referee has just sounded and the fans of the Russian hockey team followed the hockey players to the dance. In Moscow and St. Petersburg, it was twenty minutes before midnight, the clock in the Urals showed an hour and forty, and in Siberia it was twenty to three.
However, even at the beginning of the match there was no certainty of victory - the Slovakians who had caught courage immediately opened the scoring. Mother of the Russian center forward Alexandra Svitova Natalia Alekseevna watched the game at home, in Omsk. After a missed puck with the words of support, her friends called her.
"Everybody wishes for victory. They say, don't worry! And I worry all the same," said Natalia Svitova.
Semin's response puck on the banks of the Volga was met with friendly glee. A year ago, the coaching tandem Bilyaletdinov - Belov worked in Kazan "Ak Bars", and now under his leadership the team on the way to the final won nine games in a row. Fans are already comparing this team with the famous 80's team.
The author of the second Russian puck is Alexander Perezhogin. He brought the Russians ahead with an accurate throw and pleased his most devoted fan.
"This year I turned 50 years old, and the Russian team made me another gift. My birthday is 9 in May. My name is Victoria. All of my friends now call me" victorious mom, "said Victoria Perezhogin.
In the second period, the advantage of the Russian team was overwhelming - there were three reasons for joy among Russian fans. This dvadtsatiminutka was a turning point in the whole match.
The last puck from the Russians throws Evgeni Malkin, recognized as the best in this championship. In the native Magnitogorsk for Malkin, the finale is watched and experienced by one of his first mentors, Sergei Zinov.
After this championship, Sergei Zinov will become a well-deserved coach of Russia. In addition to Malkin as part of the champions, two more Ural pupils of Zinov - Evgeny Biryukov and Nikolai Kulemin.
The second victory with the score 6: 2, and the tenth in a row at the World Championships. Such a convincing superiority of one of the teams in the world hockey forums has not been for a long time. From the bars, happy fans take to the streets of cities. Filled with cars Nevsky Prospect. The roar of motorcycles disturbs the calm of Ekaterinburg at night. Russian flags appear on the streets of Magnitogorsk worker - the Russian team is once again the strongest in the world!