Derivation-Air Defense News: Is Everything Going As Planned?
Vyacheslav Khalitov, deputy director for special equipment of the UralVagonZavod corporation, said today in Kubinka near Moscow that all statements regarding the "delay" with the introduction of the latest Russian weapons from the number of armored vehicles and artillery means could be considered untenable. According to the representative of the corporation, "everything is going according to schedule."
So, according to the schedule, according to the statements of Vyacheslav Halitov, preparations are underway for state tests of not only the latest Russian
tank
T-14 Armata, but also the Coalition-SV self-propelled howitzer and the Derivation-Air Defense air defense system (and not only).
From the statement of Halitov, which leads
Interfax-AVN
:
Everything is going according to a schedule agreed with the Ministry of Defense. We have everything going according to plan in terms of the development of promising products - not only the "Coalition", but also the "Derivations" and "Almaty". Everything has its time.
If on T-14 Armata and Coalition-SV any information from officials still slipped, then with the news about work on the Derivation recently it was, to put it mildly, not a lot. Now it is noted that manufacturers are engaged in finalizing the main systems of the destruction of the installation, which allows you to destroy not only manned assets
aviation
, but also UAVs, including small
drones
.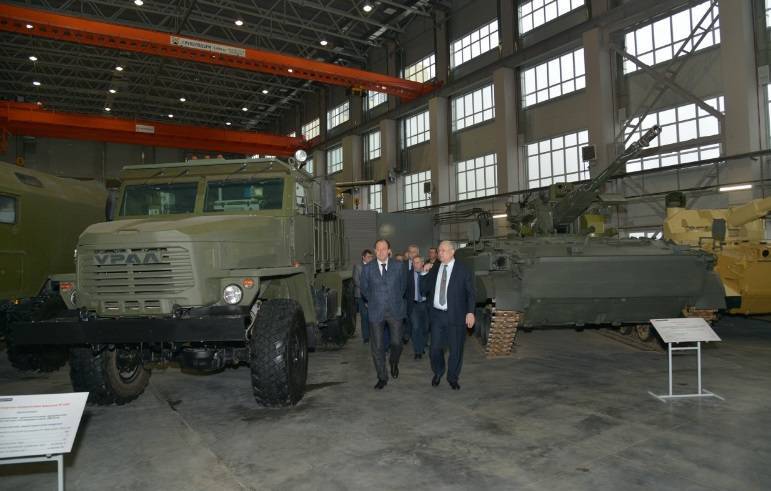 Thermal imaging control systems are said to allow Derivation-Air Defense to detect
Drones
at a distance of up to 700-800 meters. In connection with the numerous attempts of militants in Syria to carry out attacks on the Russian Khmeimim air base using drones, such capabilities of Derivation-Air Defense look very relevant.
One of the discussed features of "Derivation" is its combat 57-mm module, which is planned to be used, among other things, to protect objects from damage from MLRS missiles and even cruise missiles. The ammunition in 148 shots and the rate of fire up to 120 shots per minute, manufacturers believe, should be enough to create a fire curtain that can prevent all of the same cruise missile from being hit by a protected Derivation-Air Defense target. It was noted that the maximum target speed for the "Derivation" itself in this case cannot exceed 550 m / s.