Stoke enemy ships with Iskander? Now and it is possible
The concern of the so-called Western partners can significantly expand and deepen following the expansion of the scope of application of the Iskander-M operational-tactical missile system. The fact is that the servicemen of the Southern Military District (Southern Military District) conducted the first maneuvers in which the Iskander OTRK was used for moving surface targets. Previously, this military equipment of the Armed Forces of the Russian Federation was used for striking primarily on land targets.
The Defense Ministry emphasizes that tactical exercises were accompanied, among other things, by electronic launches of Iskander-M OTRK missiles. It added that all targets were successfully hit.
Destruction of the moving sea targets became possible after the expansion of the capabilities of the PTRC based on the use of a new type of homing heads of Iskander-M missiles.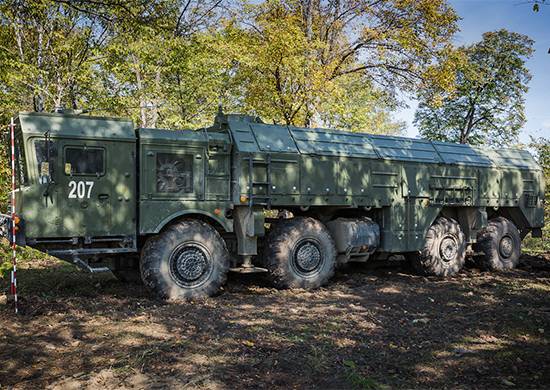 Thus, the Iskander missiles showed that they can destroy not only warehouses, accumulations of land vehicles or enemy fortifications, but also its surface warships. The accuracy of the "Iskander" brought to such indicators that it would not be too difficult for him to destroy the enemy aircraft carrier, as well as ships of several smaller classes. By and large, one Iskander OTRK may well withstand a whole group of enemy warships, becoming an additional element of the coastal defense.
Recall that officially the range of destruction of the target by the Iskander-M missile does not exceed 500 km (this is consistent with international agreements). However, NATO constantly makes claims that the real range of these missiles is much higher. In the Ministry of Defense of the Russian Federation every time they respond approximately like this: "You yourself checked, or who prompted?"
Ministry of Defense of the Russian Federation