The Western press has published a material stating that an "analogue" of the Russian complex "Krasukha" will soon appear in the arsenal of the US EW units. Recall that one of the versions of this EW complex 1RL257 "Krasukha-4" is capable of "jamming" both radar signals and UAV control radio channels. In the conditions that proved themselves in Syria (when the militants repeatedly tried to attack the Khmeimim airbase with the help of explosives
drones
), such a complex acquires additional relevance.
The US Army is preparing to receive mobile EW systems
EWTV (Electronic Warfare Tactical Vehicle)
. The complex is a platform in the form of an armored vehicle, on which a modernized electronic warfare system is installed.
Crew duke
. The US Army began to receive such a system in 2017. It allows you to resist a small-sized UAV, block remote fuses, suppress radar signals.
Now - a new platform.
The manufacturer of these systems notes that they are capable of operating in a wide range of frequencies, while encoding the signal so that it can mislead the enemy.
For obvious reasons, compare the real capabilities of the American EW system with those of, for example,
"Krasuhi-4"
At the moment it is not possible, since the exact parameters of the upgraded
Crew duke
in the United States is not yet published.
Earlier, the Americans themselves have repeatedly stressed that Russia has gone far ahead in terms of developing and creating systems and electronic warfare systems.
It should be noted that the original version of the Duke system was developed in 2004 year.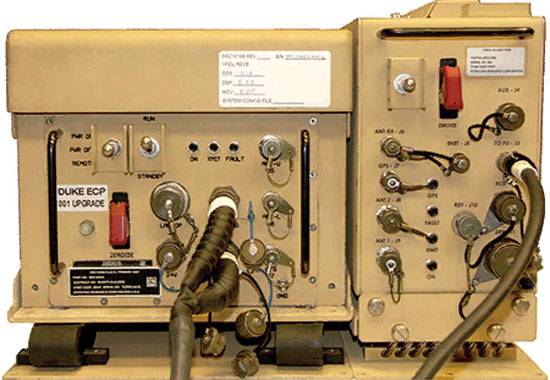 Then one of the parameters of the system functionality was highlighted: the possibility of suppressing the mobile signal. Over 14 years, the functionality of the system and its technical parameters, as noted in American sources, has seriously expanded.