The US Air Force Command has spread the information that the helicopter fleet for search and rescue operations is very worn out. It is reported that the helicopters HH-60 Pave Hawks have long gone beyond their operational times and need to be replaced.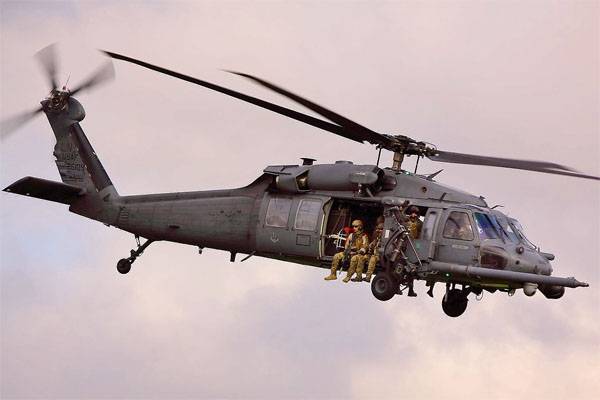 It is known that the Air Force plans to purchase two batches of upgraded helicopters. The volume of these batches should be more than 130 machines. At the same time, the rearmament of the US Army search and rescue forces will begin in the 2020 year, and its completion is planned for the 2029 year.
In the structures of the Pentagon, it is noted that this is too long a period of transition to new helicopters. It is noted that even now the existing helicopter fleet of the voiced direction only 68% consists of helicopters capable of performing the tasks.
The rest went into a "technically weak" state. This is below the marginal minimum in 75% indicated for the US Army. And this is also taking into account the fact that the annual military expenditures in the USA amount to 600-700 (and now higher) billion dollars.
Military pilots who are in search and rescue units complain that with a huge military budget, many of them have to fly on 30-35-year-old helicopters that have been repaired many times and whose service life has expired. It is noted that rescue operations often have to be performed on helicopters, which, to put it mildly, are not quite intended. Mentioned Chinook helicopter.
According to the estimates of the command, the fleet of helicopters of the search and rescue services of the US Air Force "flew" its term by about 18%. In 2017, the helicopters spent a total of 332 day repairs in the hangars. This is 40% more time than 10 years ago.
In other words, in the search and rescue teams they are trying to establish why, with the huge expenditures on the military industry, the fleet of helicopters is being updated very poorly.