Belarusian equipment used for new field kitchen APU
Ukraine presents a new development for the needs of the armed forces. This is a mobile kitchen, which is located on a two-axle trailer MAZ (MAZ 837300). Kitchen
presented
as a transforming object that can change its internal volume depending on the specific task.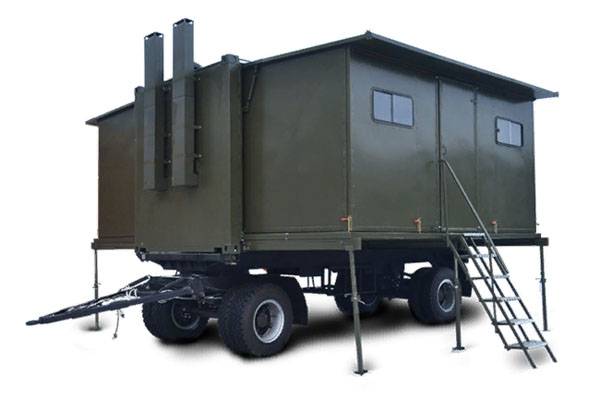 The developed form of the Ukrainian field kitchen on the basis of the Belarusian-made equipment has a useful internal area of ​​about 25 square meters. The company produces such field kitchens.
SpetsKomServis
which reports on the composition of the transformer.
In the trailer, which is designed for cooking, as well as for eating, there is a diesel generator, tables and chairs, additional equipment for the work of cooks.
Seats - 24. Equipment for receiving food 120 military (2 cooking pot on 160 l total), 80-liter boiler for boiling water, 600-liter tank for water, 50-liter capacity for DT, two-section bath for washing food. There is also a refrigerator designed for volume in 1,58 thousand liters.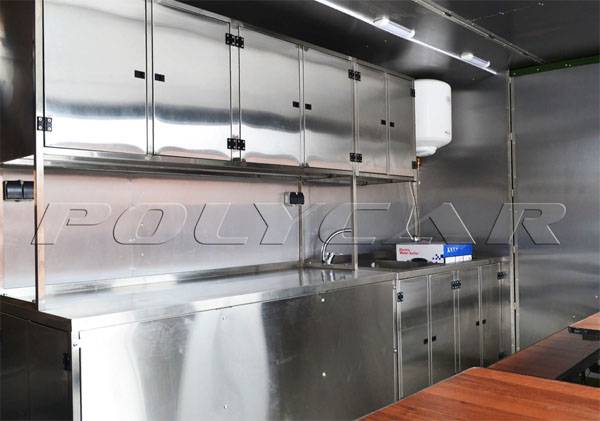 From the presentation material of the enterprise:
The increase in the internal volume is carried out by folding side walls, which consist of several parts: one part is transformed into the roof, the second part leans down and becomes a floor, additional supports are installed under it. Behind them are the flaps, which play the role of the walls of the side compartments.