The US military has contracted 17 million with a Boeing corporation to retool 11 Super Hornet fighter jets in the interests of the US aerobatic team Blue Angels, reports bmpd.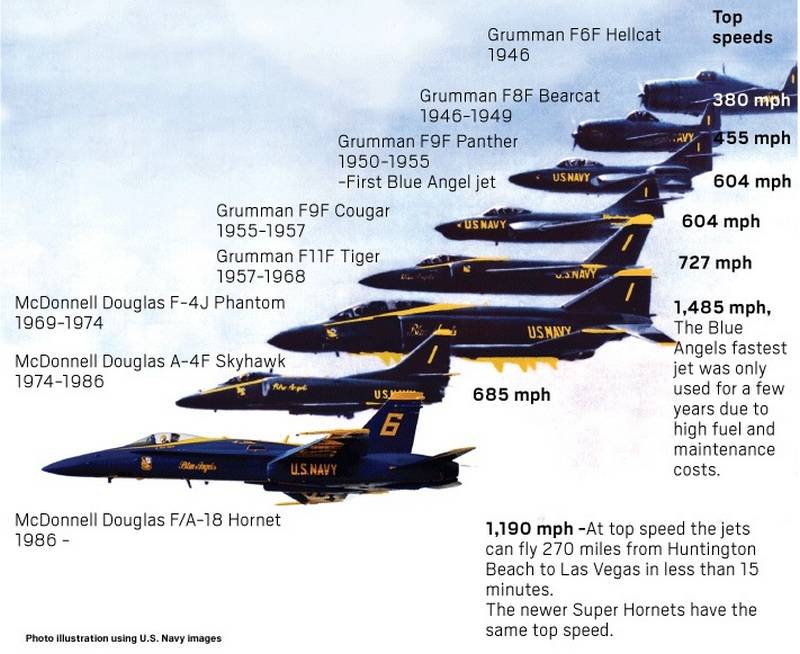 Types of aircraft used by the Blue Angels aerobatic team from 1946
Work will be performed on nine single F / A-18E and two double F / A-18F at Boeing St. Louis and should be completed by December 2021 of the year. In the Blue Angels group, the indicated F / A-18E / F aircraft will replace the currently operating Boeing F / A-18C / D Hornet fighter jets.
Earlier in 2016, Boeing and the US Department of Defense signed a contract for the design of a special modification of the F / A-18E / F aircraft for the Blue Angels group, which was completed on September 2017. Currently, the US military decided to upgrade eleven aircraft according to the developed project.
The US Navy Blue Angels demonstration squadron has existed since 1946 and is the oldest demonstration and aerobatic team of the United States Army. from 1986 of the year to the present, the group uses F / A-18 Hornet airplanes (in modifications A, B, C and D), which by some parameters are already outdated. The US Department of Defense believes that with the receipt of new aircraft specially modified for the group's requests, the Blue Angels pilots will show their skills more than once, including in the international arena.