Rosoboronexport launches Octopus-SDM1 to the global arms market
Russia decided to introduce the Sprut-SDM1 self-propelled anti-tank gun to the world arms market. The state-owned company Rosoboronexport will promote the Russian military vehicle, some states of Southeast Asia have already shown interest in technology, the company said.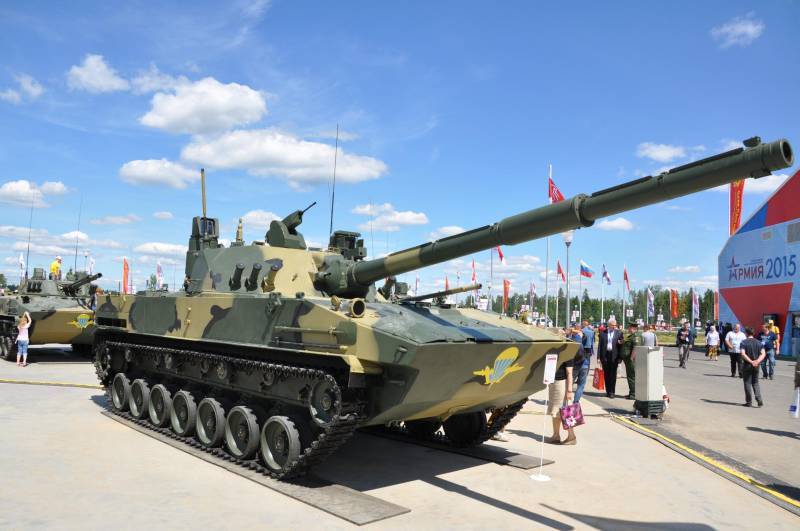 The press service of Rosoboronexport said that the self-propelled anti-tank gun "Octopus-SDM1" is the only one in its class light floating combat vehicle, which has the firepower of the main
tank
. Equipment can land from ships and work at any time of the day in an area impassable for other equipment. Great interest in this combat vehicle is expected from the countries of Southeast Asia, and some states are already interested in the possibility of acquiring BM.
The Russian combat vehicle Sprut-SDM1 "is armed with an 125-mm cannon, capable of using anti-tank guided weapons at a distance of 5000 m, an 7,62-mm machine gun and an 7,62-mm machine gun mounted on it with a remote control. units, the fight against armored vehicles, the destruction of enemy strongholds and defensive installations, the conduct of military reconnaissance and military escort.The modernized Sprut-SDM1 is unified in units and units with combat vehicle BMD-4M.
Earlier, Rosoboronexport announced the launch of the newest short-range anti-aircraft missile system Tor-E2 to the world arms market.