At the exercises held in the Kronstadt region in the area of ​​counteracting sabotage forces and facilities of the Leningrad naval base, additional tests of the 02800 project assault boat passed additional tests, the RG reports, citing the Russian military.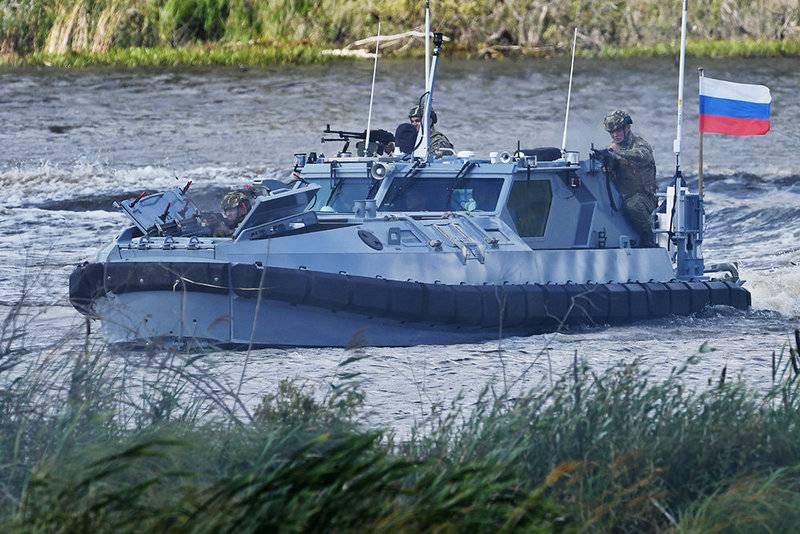 As previously reported, for the first time, the 02800 assault assault boat was presented at the Army-2016 international military-technical forum, and in 2017 it was adopted by the Naval
fleet
Of Russia. During the past year, the Navy received six such boats, which were sent to serve in the Pacific, Black Sea and Baltic fleets.
According to experts, in the Navy, this boat is called the "marine BMP". The assault boat of the 02800 project is designed to carry out patrol, sabotage and anti-sabotage functions; high-speed delivery of airborne assault groups to the coast and inspection teams on a delayed ship; fire support for the actions of special forces and marines.
Boat project 02800 has a displacement of 10 tons. Length - 10 m, width - 3,6 m. Weight - 6,5 tons. Equipped with two jet engines, providing speed up to 40 knots. Armed with two machine guns caliber 7,62 mm and one - 12,7 mm. The closed branch of the assault force and the bow of the assault boat have a bulletproof booking. On the windows of the felling installed bulletproof glass. Low profile boat provides stealth movement.