Space conquest is our task!
Recently, the extinct interest in space has intensified sharply. And it happens in different places, and not in any particular country. The plans for the creation of huge satellite constellations were announced by us and the Americans (the latter do not get tired of talking about the flight to Mars, the United States, Russia, India, China declare their lunar plans). What does this mean for us and what are the prospects?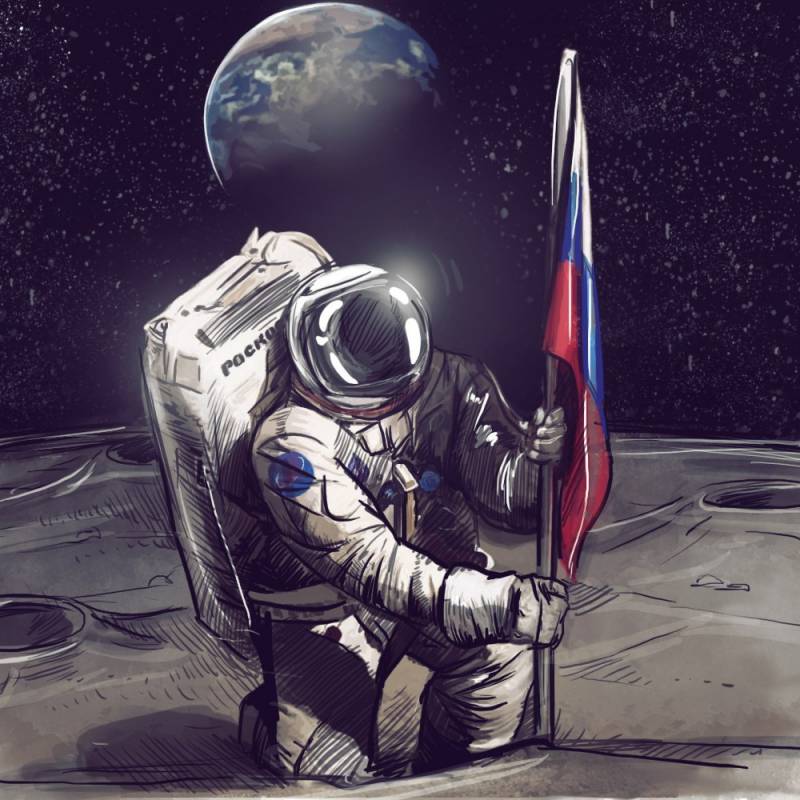 Russian cosmonaut on the moon. Alas, while only an illustration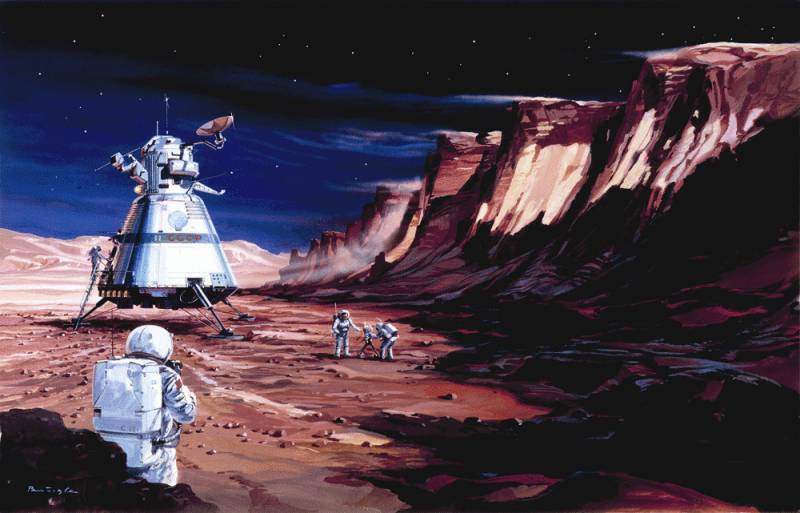 Illustration of Soviet artists on this topic
No one can deny such a possibility that all this interest arose not for objective reasons, but because someone decided to prove something to someone, and the rest simply connected. So it was with the space race of the USSR and the USA. Although it left to all mankind a lot of good and technological gizmos, including those rotating in orbit, quite a few achievements were made without objective prerequisites - without the need for these achievements, they simply had no use (because of which they were safely thrown). It happened with the lunar program of the USA and "Energy". The Space Shuttle is also a good example of achievement that has proven unnecessary. Each of the constructed was designed for 100 flights. Moreover, all built in total for the 30-summer flight program made 135 flights ...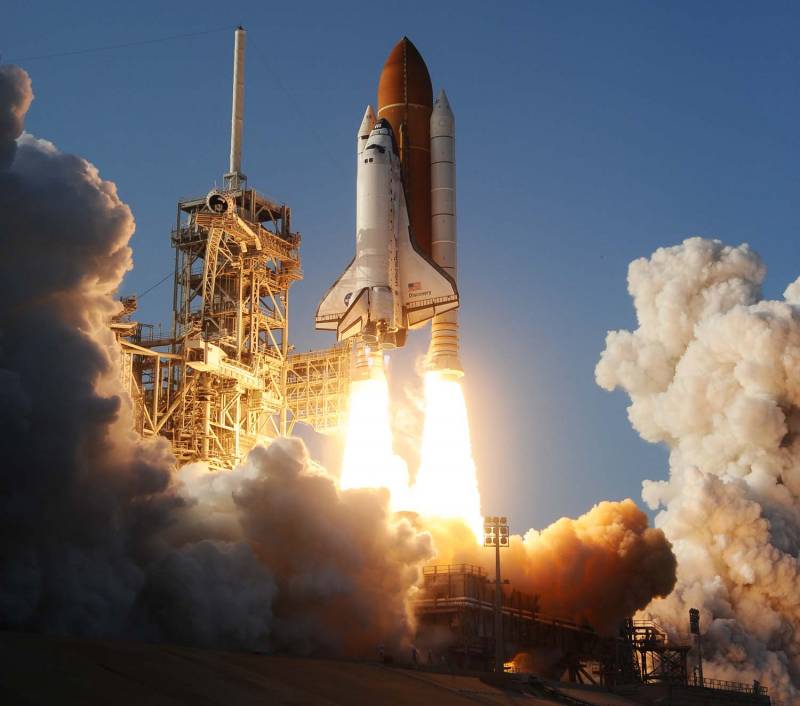 Let's go!
But, since otherwise this article has no weight, we will consider it axiom that the current surge of interest in space is caused by objective reasons that we will not understand: the article is not about that.
Now, considering that the current global interest in space is the beginning of an era of active space exploration and manned flights to other celestial bodies (at least to the Moon), find out what risks and prospects this holds for Russia. Actually, for this and thought the article.
Two "workhorses" of the national cosmonautics: "The Union" and "Proton"
I saw an article on "VO", the essence of which is described by its title: "Cowards in exchange for satellites" (thanks to the author for a good slogan from which to push; this material is not the answer to the article mentioned, just some kind of antithesis was needed) .
Alas, the decision to sew underpants instead of launching satellites may haunt us in the same way as our non-alignment with the industrial revolution still haunts when it just began. At the end of the XVIII century, at least the beginning of the peak fell on the first half of the XIX century. I do not know what the then leadership thought about, but I would express it in the way that would be in the style of cowards and satellites: "But who needs these cars ?! There is nothing to eat! "So they got what they got.
And if we believe that the current surge of interest in space is the beginning of the space age, we definitely need to be among those who are laying this era, especially since for this we have everything we need: technology, experience, desire (if it has disappeared, it is easy to revive it: the taste of euphoria from cosmic victories is still stored in the public consciousness).
Let's draw parallels. Did not become the vanguard of industrialization; completed the construction of an industrial society on 50 (if not more) years later than the advanced countries of the West. And this is still Comrade Stalin in power with us, without him there would have been, you see, even more.
And it will turn out that we decide to save on space for the sake of light industry. And in 100 years we will be in the position of catching up to talk about how this could have been avoided. Therefore, we certainly need to be among the leaders of space exploration.
And even better if it turns out that everything will end the same than last time. It is better to walk in old worn clothes, but with a couple of extra satellites in orbit, than in new beautiful clothes, but lagging behind the rest of the world (or still in old worn clothes: lagging behind beauty is not supposed to be!)
And now from abstract reasoning in the style of a spiral
stories
move on to more specific things. What prospects will we have if we occupy the position of a leader in space exploration? This refers to the creation of huge satellites of groups, flights to the Moon and asteroids, and perhaps even their industrial development (I, being an optimist, allow it to begin in the next 20-30 years).
So, as a country, we will get from all this (and we will get almost all of it, even if we do all this in cooperation with other countries)? Below it is implied that we have achieved each of the above first. So say the maximum plan.
First, the closest to today - the creation of a large satellite constellation. It has already been voiced how this will help the development of our digital economy, there is no sense in repeating. Our national economy will receive an incentive for development, which other countries do not have. In addition, the need to support a huge grouping (more than 1000 satellites are planned!) Will create demand for reusable LVs (when there is no demand for a huge number of launches, such systems become more expensive than one-time). Our cosmonautics is one of the most advanced in the world: real demand will quickly give birth to supply, and quality one.


Secondly, the expedition to the moon. Well, there will be no special economic benefits. Unless to attract private investors in the Russian space will become easier.


Third, the creation of inhabited human settlements on the moon. In the case of solving this problem, we obtain a giant technological leap, which will certainly improve the life of ordinary earthlings. There will be a real need for a large number of super-heavy rockets. As you know, the more products are released, the cheaper each product is separately. It is very likely that at this stage there will also be real demand for partially reusable super-heavy rocket launchers, which in this situation, of course, will be created. From here and to large-scale development close. We will get whole mountains of new scientific data, a powerful stimulator of technological development of the entire economy ...


Fourth, the development of asteroids. New sources of mineral resources will affect earthly life directly, there is no need to even explain. It would be a shame to be out of business in such a profitable enterprise.

You can enumerate and talk about the above for a long time ... In my opinion, one thing is clearly definite (actually, to establish this certainty, the article was conceived; the rest is details that can be rearranged and replaced). The risks of falling behind and the prospects for being in the forefront are too high for such a power (and not only space, but also military, political), like ours, to afford to seriously think even about the possibility of abandoning the active development of astronautics in favor of solving "earthly problems" ". In this situation, a false start is much preferable to a late start.