In Russia, ready to create a multi-helicopter. According to the drawings Mi-32?
Russian developers are ready to start creating a helicopter with a multi-screw modification. It is reported that we are talking about a helicopter with a hybrid engine. Reports about it
RIA News
with reference to an informed industry source.
It is noted that the base in this case are still Soviet developments. These are several variants of multi-rotor helicopters, which at one time did not go into production due to the complexity of the design. In this scheme and drawings remain at the disposal of engineers of today. The main task: to use the scheme to create a helicopter with increased payload and greater speed.
To implement the machine without the bulkiness of the structures can allow a hybrid power plant, which will be involved and the electric motor. The layout of the electric motor, as stated, will increase the range and duration of the flight and increase the efficiency of the helicopter systems.
Prototypes of aircraft with hybrid engines are already available in a number of foreign countries of the world.
For reference: in the USSR, as an experiment to implement the principle of a multi-rotor helicopter, work was carried out on the Mi-32 project.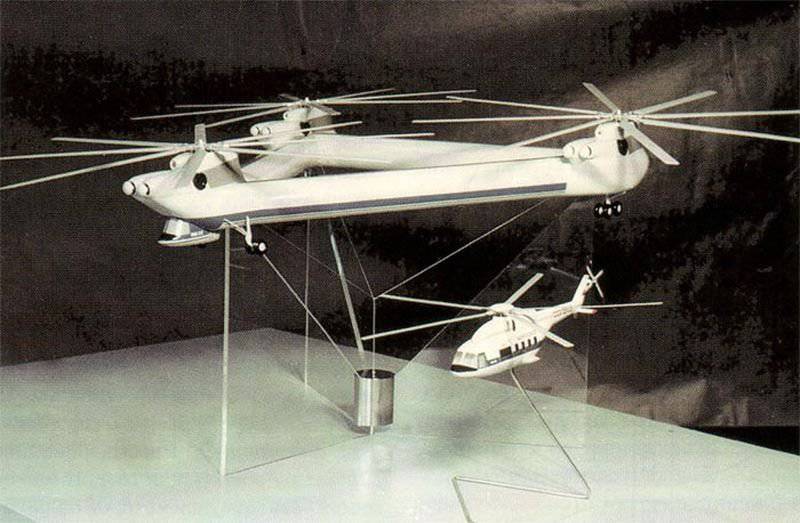 The helicopter according to the plan should have a three-screw design. The scheme of the helicopter assumed 4-support chassis. The dimensions of the machine itself are more than impressive: over 40 m. Transportation of goods was assumed on the external sling with a system of cables. This mega-helicopter had to service 6 D-136 type engines with shafts for synchronization.